UNGA United Nations General Assembly
At a special meeting of the EU Foreign Affairs Council, Foreign Minister Schallenberg condemned the Russian shelling of a nuclear power plant in Ukraine. Read more about this special meeting and what was discussed there.
March 10, 2022
By a large majority, the UN General Assembly has condemned the Russian attack on Ukraine. 141 states voted in favor of a resolution to this effect and demanded Russia's withdrawal from the country. Austria was represented by its UN Ambassador.
March 2, 2022
At an emergency session of the United Nations General Assembly, Austrian Ambassador to the UN, Alexander Marschik, questioned whether the veto power provided to the five permanent members of the United Nations Security Council undermines its ability to uphold international law. Read more of what the ambassador said regarding Russia's invasion of Ukraine.
March 1, 2022
The Bulletin of the Atomic Scientists kept the "doomsday clock" set at "100 seconds to midnight" yet again this year, arguing that current geopolitical tensions have put the risk of nuclear conflict higher than ever before. Read what has the scientists so worried and what Foreign Minister Schallenberg said about the threat.
January 25, 2022
On his stay at the 76th United Nations General Assembly in New York, Foreign Minister Schallenberg held a roundtable event with Austrian and U.S. entrepreneurs to exchange ideas. This was the first of the ReFocus Austria initiative events in the U.S. aimed at strengthening the Austrian economy. Read more about ReFocus Austria and what was discussed at this event.
September 30, 2021
While in New York for the 76th UNGA, Foreign Minister Schallenberg and Chancellor Kurz met with representatives of various Jewish organizations and briefed them on new measures being taken to combat anti-Semitism. Read about their meetings and some of the steps they are taking to address this issue.
September 29, 2021
Throughout the 76th United Nations General Assembly, some of the main issues that the Austrian delegation focused on were sustainable energy and climate change, COVID-19 and vaccinations, and the situation in Afghanistan. Read about some of the contributions and results of the event from Austria's point of view.
September 29, 2021
Discussions regarding the future of the Joint Comprehensive Plan of Action, also known as the Iran Nuclear Deal, are set to continue in Vienna. This has been confirmed by Austrian Foreign Minister Alexander Schallenberg and Iranian Foreign Minister Hossein Amir-Abdollahian. The Director General of the IAEA, Rafael Mariano Grossi, also announced to the IAEA Board of Governors that Iran has agreed to allow IAEA inspectors to service the agency's monitoring and surveillance equipment in Iran and replace their storage media. These developments come as US President Joe Biden has publicly expressed interest in returning to the agreement that his predecessor unilaterally withdrew from.
September 24, 2021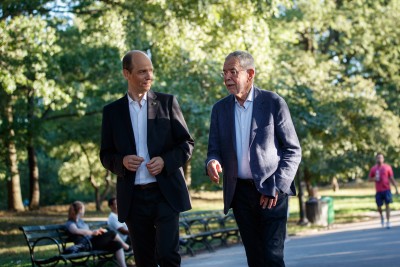 Austrian President Alexander Van der Bellen is in New York attending the 76th UN General Assembly along with Chancellor Kurz and Foreign Minister Schallenberg. On Tuesday, President Van der Bellen attended the "Welcome Reception" with UN-Secretary General António Guterres and the opening of the General Assembly. The President also held talks with the presidents of Costa Rica, Ghana, Guyana, Senegal, and Zambia. Van der Bellen is still scheduled to meet with Secretary-General Guterres, various world leaders, and scientists to discuss the COVID-19 pandemic, climate change, and more. Read about the President's trip so far and what is next on his agenda.
September 21, 2021
Austrian Chancellor Sebastian Kurz and Foreign Minister Schallenberg are in New York for the 76th United Nations General Assembly. Their trip includes meetings with various delegations, with an emphasis on the situation in Afghanistan and the COVID-19 pandemic. Notably, the pair, along with President Van der Bellen, will meet for talks with UN Secretary-General Antońio Guterres. Chancellor Kurz will also address the Council on Foreign Relations and Schallenberg will deliver a speech to the General Assembly. Read more about the details of their trip.
September 21, 2021
A side event sponsored by IIASA and ISC as part of the 75th United Nations General Assembly (UNGA), attended among others by H.E. Ban Ki-moon and former President of Ireland H.E. Mary Robinson, addressed the game-changing measures that will help build a more resilient world and summarized key policy insights on how to move forward sustainably.
September 29, 2020