Coronavirus in Austria: Live-Ticker (Our live coverage has now concluded)
On this website you can find information and guidance in English from Vindobona.org regarding the current outbreak of the coronavirus pandemie (COVID-19) in Austria. Vindobona.org is being informed by local Austrian and global health authorities to rapidly disseminate information and knowledge on this new virus, and to provide advice to travellers and expats on measures to protect health and prevent the spread of this outbreak. Please visit this page for daily updates.
Coronavirus in Austria and around the globe: Live-Ticker. / Picture: © ECDC European Centre for Disease Prevention and Control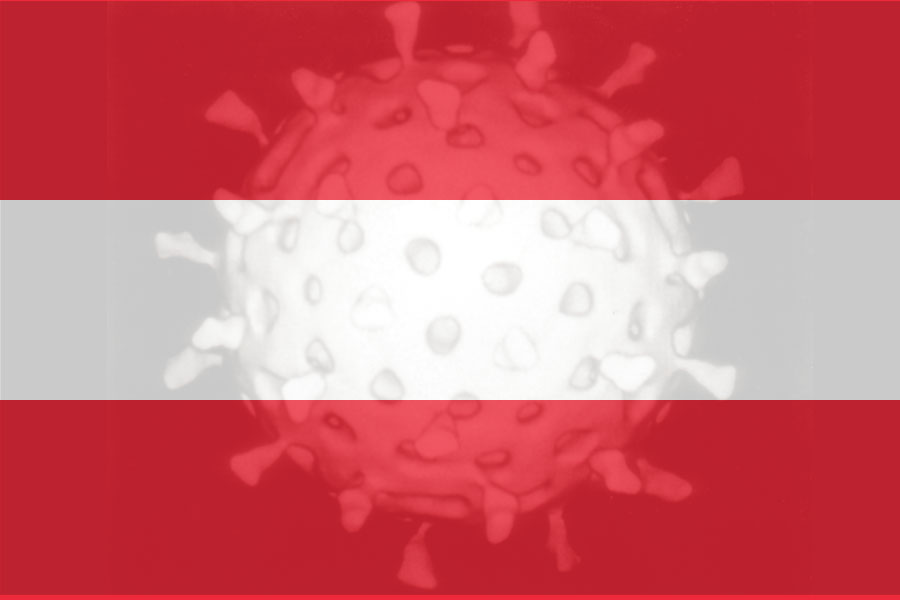 "Coronavirus in Austria: Live-Ticker" - You will find current information in chronological descending order:
June 9, 2020
Following the complete reopening of Austria's borders with all neighbouring countries - except Italy - a week ago, the opening of the border between Austria and Italy as of 16 June is now also being rumoured.
June 3, 2020
After several months of corona virus restrictions, Austria will re-establish complete freedom of travel to its neighbouring countries with the exception of Italy as of 4 June.
May 30, 2020
From 15 June, the current obligation to protect the mouth and nose will be abolished:

Three areas are excluded from the relaxation of the mask obligation: Public transport, the health sector including pharmacies, and services where the minimum distance of one metre cannot be maintained.
Catering staff will still be required to wear mouth and face protection.
The closing time for gastronomy will be extended from 23.00 to 1.00 hours:

The catering trade has been open again until 23.00 hrs since 15 May.
A maximum of 4 adults can sit at each table, plus those with their children.
The minimum distance of 1 meter to other guests applies.
The service personnel must wear mouth and nose protectors.
Guests at the table do not have to wear one.
Tables should be reserved; there is officially no free choice of seat.
Border openings:

There were no further updates on the border openings.
As reported, controls have already been relaxed at several Austrian external borders. From 15 June, freedom of travel between Austria and Germany, Switzerland, Hungary, the Czech Republic, Slovakia and Lichtenstein is to be reintroduced.
With regard to Italy and Slovenia, there is no opening date yet, but further relaxation for travel to these and other countries is to be announced next Wednesday.
Public services:

Already since last weekend it is possible again to organize and to attend public services.
Schools:

The wearing of mouth and nose protectors in schools, for example, is no longer mandatory due to the current relaxation.
From Tuesday on, the compulsory school children will start in the elementary and secondary schools (Volks- und Mittelschulen), the AHS Unterstufe and the Allgemeine Sonderschule.
May 29, 2020
After eleven weeks of closure, the museums of the City of Vienna have reopened their doors. 

These include the Kunsthalle Wien, Wien Museum MUSA and Hermesvilla as well as the Architekturzentrum Wien, Kunst Haus Wien, Jewish Museum, Haus der Musik and Mozarthaus Vienna.