Teresa Ribeiro
Since 2012, the Russian government has been suppressing freedom of expression step by step. With a new law that will only allow information from official Russian channels, a new low has been reached to which the OSCE would like to draw attention once again.
September 22, 2022
The Find out more about this week's developments. The war in Ukraine is also making itself increasingly felt in the Austrian economy. In Vienna, there are new developments in the day-to-day business of diplomacy. Read about the latest developments in diplomacy in Vienna and Austria.
August 18, 2022
Recently, critical journalists were persecuted and imprisoned in Russia as a common practice. The OSCE Representative on Freedom of the Media, Teresa Ribeiro, strongly condemns the continued practice of judicial persecution, which is hampering access to information and media freedom in the Russian Federation. After the recent criminal and administrative charges against journalists and media workers, Ribeiro emphasized that judicial persecution should not be tolerated.
August 17, 2022
In response to the recent imprisonment of journalists, the OSCE Representative on Freedom of the Media today expressed concern about the continued and unchanging practice of judicial reprisals against journalists and media workers.
July 14, 2022
The Organization for Security and Co-operation in Europe is organizing the Supplementary Human Dimension Meeting, emphasizing the importance of democratic principles, human rights and independent media work and how the Russian invasion of Ukraine is threatening these principles in Europe.
May 17, 2022
The OSCE Media Freedom Representative denounces the latest arrests of journalists in Russia and calls on Russian authorities to repeal restrictive laws.
April 15, 2022
OSCE Representative on Freedom of the Media, Teresa Ribeiro, expresses her concern about the shrinking space for media workers to conduct their journalistic work abroad.
February 23, 2022
The new Permanent Representative of Romania to the International Organizations in Vienna, Mr. Stelian Stoian, recently presented his credentials to the heads of the various organizations. Learn more about Mr. Stoian.
February 23, 2022
OSCE Representative on Freedom of the Media Teresa Ribeiro reiterated her concern regarding Ukraine's practice of applying sanctions against media outlets.
February 23, 2022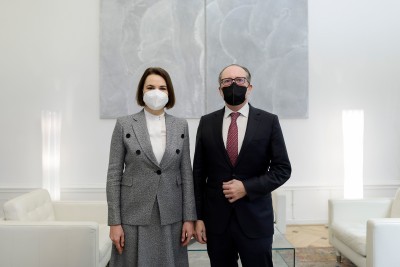 Chancellor Schallenberg participated in a video conference to discuss the situation in Belarus and the worsening humanitarian crisis at the EU's external border with numerous representatives from other EU member states and Belarusian opposition politicians. Read what was discussed at the meeting and watch a joint press conference with Schallenberg and Belarusian opposition leader Sviatlana Tsikhanouskaya.
November 23, 2021
The OSCE member states recently made new appointments to the organization's leadership positions at the Ministerial Council. Teresa Ribeiro, the former Secretary of State for Foreign Affairs in the Portuguese government, has filled the post of OSCE Representative on Freedom of the Media. Apart from her diplomatic career, the 66-year-old Portuguese had also worked in the media sector in the past.
February 2, 2021