Nagorno Karabakh
Amid growing tensions between Russia and Ukraine, Russian Foreign Minister Sergey Lavrov is meeting with Foreign Minister Linhart at the annual Ministerial Council of the Organization for Security and Cooperation in Europe (OSCE) in Stockholm, Sweden. Read about their meeting as well as Linhart's agenda for the summit.
December 2, 2021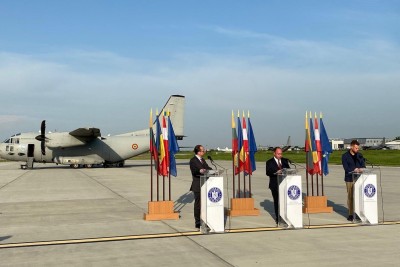 The Foreign Ministers from Lithuania, Romania and Austria have visited the South Caucasus countries Azerbaija, Armenia and Georgia on behalf of EU External Relations Commissioner Josep Borrell. Read everything about the details of the trip below.
June 28, 2021
The discussions between the two respective Foreign Ministers from Liechtenstein and Azerbaijan with Austria's Alexander Schallenberg focused on the bilateral relations and the Nagorno-Karabakh conflict.
May 28, 2021
Portuguese Foreign Minister Santos Silva welcomed his Austrian counterpart Schallenberg for a working meeting in Portugal's capital Lisboa. The two ministers met prior to Portugal's upcoming EU Presidency to discuss the key issues that will be addressed during that time. These include the transatlantic relations as well as relations with the African continent, accession negotiations with Western Balkan countries and the social and economic impacts of the Covid-19 pandemic.
December 14, 2020 · Updated: December 21, 2020; 10:55
At the Foreign Affairs Council of the EU in Brussels the Foreign Ministers discussed transatlantic relations, the continuing tensions with Turkey and current trouble spots such as Ethiopia and Belarus. Austria's Minister Schallenberg hopes for improved relations between the United States and the EU in the near future.
December 7, 2020
In a telephone call, Lavrov and Schallenberg, the Foreign Ministers of the Russian Federation and Austria, respectively, have assured their countries' support for the people in the Nagorno-Karabakh region. The Austrian government has, furthermore, decided to make funds from the Foreign Disaster Fund available.
November 18, 2020
The Canadian Foreign Minister Champagne visited Austria to conduct meetings with UN Organizations as well as with Chancellor Kurz and Foreign Minister Schallenberg. The topics on the agenda were the CETA agreement, the Covid-19 pandemic and current foreign trouble spots.
October 15, 2020
At this month's EU Foreign Affairs Council, current foreign issues, such as developments in Belarus, in the Nagorno-Karabakh region and the relations with Russia, were on the agenda. Austria was represented by Foreign Minister Schallenberg.
October 12, 2020
The EU government heads have come together to discuss foreign policy issues in Brussels. Chancellor Kurz is representing Austria at the meeting and has already met with Council President Michel, EU Foreign Affairs Commissioner Borrell and Commission President von der Leyen.
October 1, 2020
Michael Linhart met Deputy Prime Minister and Foreign Minister of Turkmenistan Rashid Meredov and Deputy Foreign Minister of Azerbaijan Araz Azimov in Vienna. "Azerbaijan and Turkmenistan are important partners for Austria in the context of its OSCE Chairmanship in 2017"
February 12, 2016