Multilateralism
The Secretary-General for Foreign Affairs, Peter Launsky-Tieffenthal, today welcomed the more than 80 Permanent Representatives to International Organizations in Vienna for an exchange at the Ministry of Foreign Affairs on Austria's official residence. The meeting resumes a regular dialogue format that helps strengthen Vienna as a center for diplomacy.
April 27, 2022
Foreign Minister Alexander Schallenberg reaffirmed the good relations with Australia in a personal meeting with Australia's Foreign Minister Marise Payne. Mrs. Payne also paid a visit to Chancellor Nehammer.
December 13, 2021
On the occasion of the International Day of Multilateralism and Diplomacy for Peace, Austria's Foreign Minister Alexander Schallenberg advocates for increased cooperation and implementation of disarmament commitments. He emphasizes that "multilateralism is the basis for sustainable peace."
April 26, 2021
In a telephone conference UN Secretary-General Antonio Guterres and Austria's Federal President Alexander Van der Bellen discussed the ongoing Covid-19 pandemic, the climate crisis and the importance of multilateralism in combating global challenges. Van der Bellen also mentioned Austria's support for the efforts of the United Nations.
February 3, 2021
On the occasion of the 65th anniversary of Austria's UN membership, Foreign Minister Schallenberg underlines the importance of the cooperation between the member countries, especially in times like these. He stresses that Austria will continue to do everything in its power to maintain and enhance the functioning international cooperation.
December 15, 2020
Vienna will be the host city of the EU Multilateral Christmas Gala taking place on December 19. The follow-up concert of the "TOGETHER as ONE" event in May will include a special and unique arrangement of Beethoven's 9th Symphony recorded live from the Schlosstheater Schönbrunn.
December 2, 2020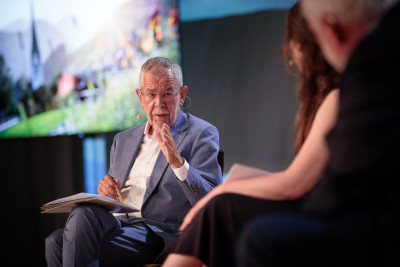 Austria's Federal President Alexander Van der Bellen opened the 75th European Forum Alpbach with his speech that focused on international cooperation and an environmentally friendly and sustainable future.
August 26, 2020
The European Forum Alpbach will be opened by Austria's President Alexander Van der Bellen on August 23 and will host various outstanding speakers, either in person or virtually, for 12 days.
August 18, 2020
UN Secretary-General Guterres met with Austrian Foreign Minister Schallenberg.
February 6, 2020