Sponsored
Page 1/1
Yukiya Amano
The renovation of the IAEA's Nuclear Applications Laboratories in Seibersdorf for the peaceful use of nuclear technology is progressing swiftly with a further inauguration of an important facility. Nuclear techniques can help increase livestock productivity, detect food fraud, combat transboundary zoonotic diseases, and improve soil and water management, among other objectives, and contribute to achieving the Sustainable Development Goals.
December 4, 2018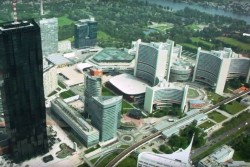 Nearly 2,600 participants attended this year's event at VIC Vienna International Centre, including delegates from 153 of the IAEA's 170 Member States, international organizations, non-governmental organizations and the media. By the end of the 62nd IAEA General Conference, 91 Member States have pledged to the Technical Cooperation Fund for 2019. While not all Member States use the opportunity of the General Conference to pledge their contribution, a pledge by so many countries – over 53% of all IAEA Member States – represents a record. The total Technical Cooperation Fund Target for 2019 is 86.2 million euros.
September 27, 2018
The struggle for the prolongation of the nuclear agreement with Iran continues. On Tehran's initiative, the Joint Commission is meeting in Vienna at Palais Coburg to discuss measures to support the Joint Comprehensive Plan of Action (JCPOA) on the Iranian nuclear program. Tehran wants to decide on compliance with the nuclear deal in the coming weeks.
May 25, 2018
The Austrian Foreign Ministry in the framework of its Chairmanship of the OSCE Asian Contact Group (Afghanistan, Australia, Korea, Japan and Thailand), is organizing a conference on "Effective Multilateralism in a globalized world - The case of Europe and Asia Pacific" at Palais Niederösterreich, Vienna. The conference will focus on multilateral security mechanisms in Europe and the Asia Pacific region, as well as on economic connectivity and co-operation.
May 14, 2018
The International Atomic Energy Agency (IAEA) and the Islamic Republic of Iran (Iran) agree, in continuation of their cooperation under the Framework for Cooperation, to accelerate and strengthen their cooperation and dialogue aimed at the resolution, by the end of 2015, of all past and present outstanding issues that have not already been resolved by the IAEA and Iran.
July 14, 2015