Ulli Sima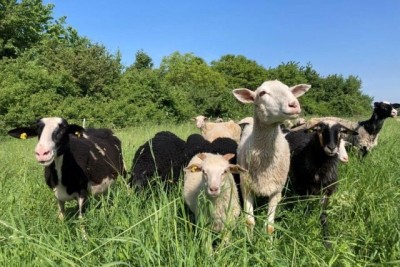 As part of a pioneering EU project, the Danube Island's new and gentle inhabitants have proven to be surprisingly efficient lawnmowers. Around 70 sheep find a temporary home on the Danube Island during the summer months. As natural lawnmowers, they help to revitalize the island's flora and fauna and promote biodiversity.
August 21, 2023
The City of Vienna announced the winner of the 2021 Hedy Lamarr Award for outstanding achievements by women in information technology. Find out who won this year for her work on innovative learning methods and immersive experiences.
October 25, 2021
Vienna's Praterstern is beginning its transformation into a greened and cooled lounge oasis and should be finished by the summer of 2022. Read about the specifics of the revitalization of Praterstern and view some projections of what the area will look like once it is complete.
October 14, 2021
The City of Vienna is introducing uniform parking stickers (Parkpickerl) throughout the city. The stickers and new parking regulations are supposed to create more parking spaces, reduce traffic, increase the use of public transport, and help with climate change. Learn more about the sticker and why Vienna made this decision.
August 20, 2021
Vienna is introducing a new parking system as of March 2022. The new regulations will apply to all 23 districts and will additionally standardize prices. Read more about the new rules below.
June 18, 2021
No parking spaces and a city full of cars could be a story of the past. Vienna aims to introduce a city-wide parking permit, which would result in more commuters using public transportation and in more parking spaces for Vienna's population.
May 7, 2021
Vienna's city government has unveiled a memorial stone for the victims of the Vienna Terror Attack on November 2, 2020. Vienna's Mayor Michael Ludwig emphasized that the memorial stone also represents a sign of togetherness of the Viennese people. He showed himself very pleased with the amount of solidarity the terror night brought about.
February 24, 2021
The Europe-wide Innovation in Politics Award 2020 goes to the research project RemiHub, coordinated, among others, by Wiener Linien and the Vienna University of Technology. RemiHub focuses on the urban parcel delivery and was already tested for different delivery services in Vienna.
December 3, 2020
The two EU capitals Vienna and Bratislava are approaching each other. After a construction period of about two years, representatives of Austrian Federal Railways (ÖBB), the EU, the City of Vienna and the Province of Lower Austria opened the first part, the so-called "Vienna section" of the Vienna - Bratislava line extension. The completion of the second part, the so-called "Lower Austrian Section", will last until 2023. The journey time from the main railway station in Vienna (Hauptbahnhof-Wien) to the main railway station in Bratislava (Bratislava hlavná stanica) will be reduced from 66 minutes to 40 minutes.
December 5, 2018