Mowing Sheep Enrich Flora and Fauna of Vienna's Danube Island
As part of a pioneering EU project, the Danube Island's new and gentle inhabitants have proven to be surprisingly efficient lawnmowers. Around 70 sheep find a temporary home on the Danube Island during the summer months. As natural lawnmowers, they help to revitalize the island's flora and fauna and promote biodiversity.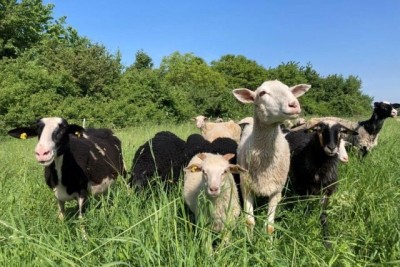 Around 70 sheep live graze meadows on the Danube Island during the summer as part of an EU project, making a valuable contribution to the biodiversity of fauna and flora. / Picture: © Magistrat der Stadt Wien / PID / Christian Fürthner
Since May of this year, the mowing sheep have taken over the northern part of the island, where they have grazed an impressive 5.8 hectares - the equivalent of about 450 beach volleyball courts. The sheep, which originally began in a flock of 30, has now grown to an impressive 70.
In addition to the obvious task of cutting meadows, the mowing sheep fulfill an even more significant role: they help promote biodiversity. Their grazing creates a colorful mix of flowers that serves as a food source for various insect species. City Councilor Ulli Sima of the SPÖ emphasizes that sheep grazing not only gently maintains the meadows, but also creates habitats for butterflies, mantis, and grasshoppers.
The grazing of the Danube Island by sheep is part of the EU project LIFE DICCA, which was launched by the Department of the City of Vienna - Vienna Waters. This project aims to adapt Danube Island to the challenges of climate change while protecting the natural environment.
The mowing sheep are looked after daily by experienced shepherds who ensure that the animals lack for nothing. Their use is not only environmentally friendly but also an innovative way to support biodiversity while preserving Danube Island's picturesque landscape.
The future of nature conservation
The combination of traditional sheep grazing and modern conservation efforts demonstrates how carefully coordinated projects can help preserve the environment. While the sheep perform their important task, the Danube Island becomes a living symbol of sustainable nature conservation and the harmonious coexistence of humans and animals.
The EU project LIFE DICCA aims to adapt Danube Island to climate change while protecting the natural environment. Sheep grazing is one of many measures that help to preserve and promote the island as an ecologically valuable area. For more information, visit the official Danube Island website.