North Korea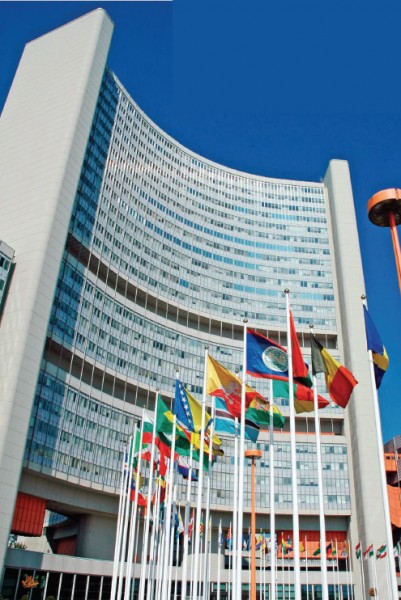 The IAEA Board of Governors will convene its regular November meeting virtually, starting at 10:30 CET on Wednesday, 24 November. Board discussions are expected to include verification and monitoring in the Islamic Republic of Iran in light of United Nations Security Council resolution 2231 (2015).
November 23, 2021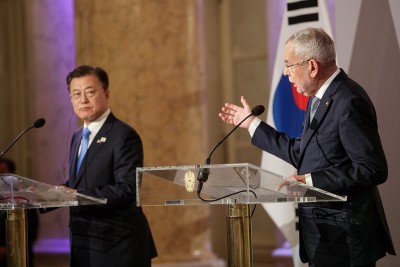 The South Korean President Moon Jae-in has met his Austrian counterpart Alexander Van der Bellen and the Austrian Chancellor Sebastian Kurz in Vienna to discuss the Covid-19 pandemic and a strategic partnership.
June 15, 2021
The new Ambassador of the Democratic People's Republic of Korea to Austria, H.E. Mr. Choe Kang Il presented Austrian Federal President Alexander Van der Bellen with his letter of accreditation at the Vienna Hofburg.
July 12, 2020 · Updated: July 13, 2020; 10:25
The new Permanent Representative of North Korea (Democratic People's Republic of Korea) to the United Nations, Mr. Choe Kang Il, who was already stationed in Vienna from 2011 to 2015, presented his credentials to the Director-General of UNOV, Ghada Waly. He replaces Mr. Kim Kwang Sop, who, for 27 years has been the highest North Korean diplomat in Austria.
June 19, 2020
During the Asia-Europe Meeting (ASEM) Summit in Brussels, Mr. Shinzo Abe, Prime Minister of Japan, and Federal Chancellor Sebastian Kurz met for bilateral talks. The meeting focused on the 150th anniversary of the establishment of diplomatic relations between Japan and Austria next year, the new tax convention between Japan and Austria, the Japan-European Union (EU) relations and the situation in North Korea.
October 30, 2018
Austria's largest state visit to China to date is about to take place. Four ministers will travel to China from 7 to 12 April with President Van der Bellen and Chancellor Kurz. 170 Austrian companies with a delegation of around 200 people are also on board. The expectation is high that various agreements between Chinese and Austrian companies will be signed.
April 3, 2018
Austrian Foreign Minister Sebastian Kurz condemns the latest North Korean nuclear test in the strongest terms and underlines his full trust in the CTBTO.
January 11, 2016