Albert S van Jaarsveld
The two former member countries India and Slovak Republic have rejoined the international Research Institute "IIASA - International Institute for Applied Systems Analysis" in Laxenburg near Vienna in recognition of their mutual benefits of scientific collaboration in a broad field of activities of global concern and interest.
April 8, 2020
The UK, which is one of 23 member countries and which has been a member of the International Institute for Applied Systems Analysis (IIASA) in Laxenburg near Vienna since 2015, has confirmed funding for a further five years of UK membership of the institute.
February 10, 2020
During high-level talks at the United Nations Climate Change Conference (COP 25), Maria Patek, Austria's Federal Minister for Sustainability and Tourism, announced the hosting of the Vienna Energy Forum (VEF) 2020.
December 11, 2019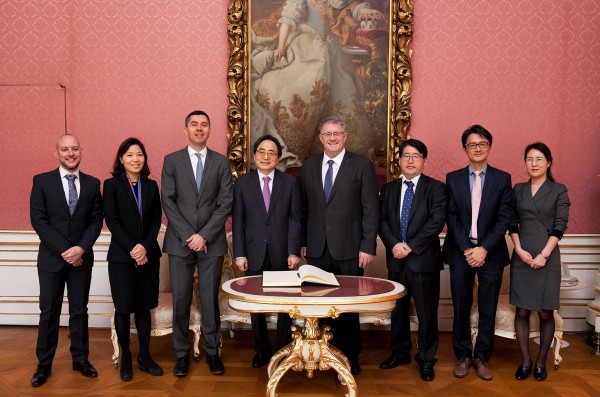 Since the Republic of Korea's (South Korea) membership of IIASA began in 2008, a range of research collaborations and capacity building activities have been developed by IIASA and 18 Korean research partners. Now, Shin Dong-ik, Ambassador to Austria and Permanent Representative of the Republic of Korea to the United Nations in Vienna, visited IIASA to learn more and to talk about the IIASA research agenda and the institute's current and future research collaborations with South Korea.
March 26, 2019
A few years ago, the newly awarded Economics Nobel Prize winner William D. Nordhaus spent a whole year in Vienna to conduct research. IIASA, the international research institute based in Laxenburg, can now pride itself on being the institution where Nordhaus launched its "own first serious research on global warming".
October 9, 2018
Vice Chancellor of South Africa's University of KwaZulu-Natal, Dr Albert S. van Jaarsveld, has been appointed as Director General and CEO of the International Institute for Applied Systems Analysis (IIASA). Dr. Albert van Jaarsveld has become the eleventh Director General of IIASA on 1 October 2018. He succeeds outgoing Director General Professor Pavel Kabat who became the first Chief Scientist of the United Nation's World Meteorological Organization (WMO).
October 1, 2018