WTO World Trade Organization
A motion for a resolution was filed in the Austrian Parliament calling for the Austrian government to support countries, such as Taiwan, sanctioned by China for supporting democracy, human rights, and other global values. Read about the motion and the reasoning behind it.
October 21, 2021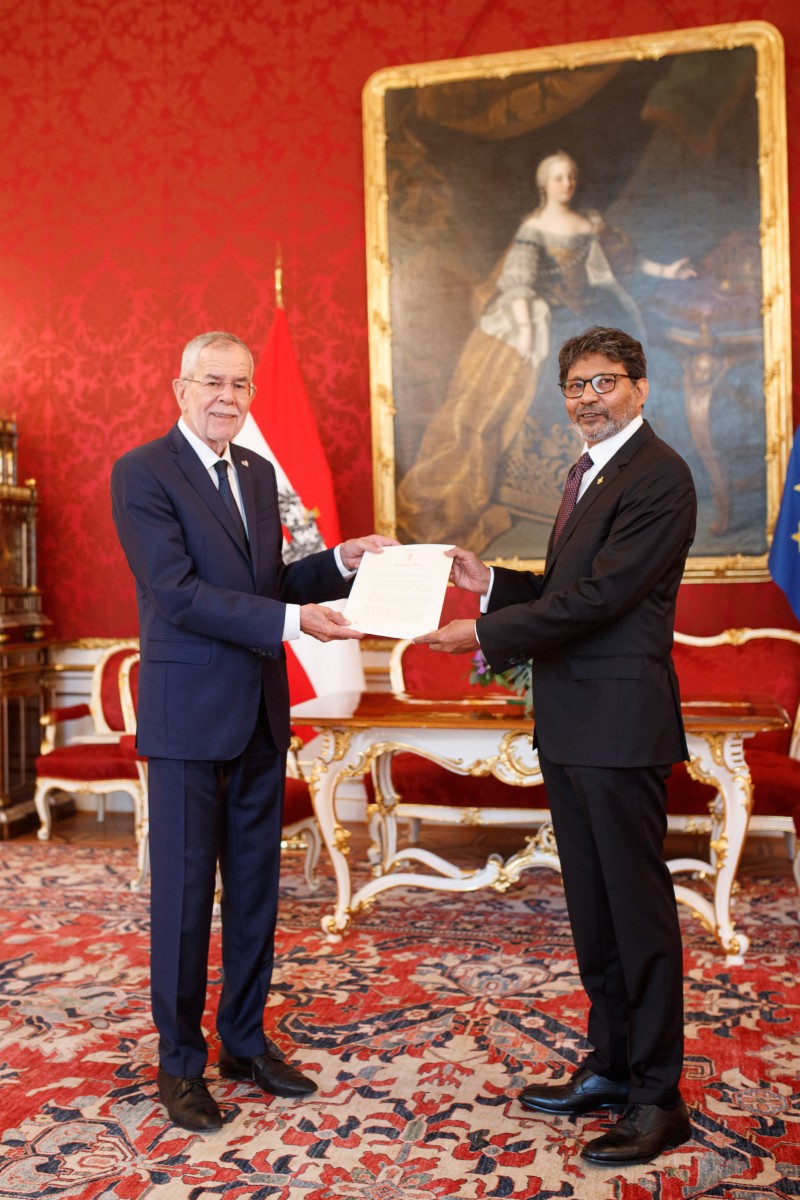 The new Ambassador of Maldives to Austria, H.E. Mr. Asim Ahmed, presented his credentials to Austrian Federal President Alexander Van der Bellen. Ambassador Ahmed also recently met with Leonore Gewessler, the Austrian Minister for Climate Action. Learn more about the Ambassador.
September 17, 2021
The new Ambassador of Barbados to Austria, H.E. Mr. Chad Blackman, presented his credentials to the Federal President of Austria, Alexander Van der Bellen. Mr. Blackman is also the first Ambassador of Barbados to Serbia and the Permanent Representative of Barbados to the World Trade Organization (WTO) and UN offices in Geneva. Learn more about Ambassador Blackman.
September 17, 2021
Austria's Minister of Economics Margarete Schramböck welcomes the European Commission's document on a new EU trade strategy. The proposal incorporates various topics that will determine the EU's trade strategy for the next few years. Lessons learned from the Covid-19 crisis with regard to inner-European policy as well as international trade is accounted for in the proposition.
February 18, 2021
The Lipizzan horses are to become cultural heritage. After decades of dispute, Slovenia and Austria submit the Lipizzaner breed to UNESCO as an intangible cultural heritage. This was declared by Austrian Foreign Minister Karin Kneissl and her Slovenian colleague Miro Cerar after signing a joint declaration in Going in Tyrol. The application should be submitted by March 2020 with the aim of enrolment by 2021.
May 7, 2019
In order to improve bilateral relations and exports between Lower Austria and the Chinese partner province Zhejiang near Shanghai, a large delegation from Lower Austria headed by Governor Johanna Mikl-Leitner was touring East China this week. The plan is to increase goods exports by 100 million euros within four years.
April 26, 2019
Georg Kapsch, President of the Federation of Austrian Industries (IV) demands the next federal government to introduce a comprehensive reform agenda.
September 27, 2013
A year ago, Russia joined the World Trade Organization (WTO). However, the country is not satisfied with the results despite of having negotiated about joining for 19 years.
August 26, 2013
Chairperson Major explains that Bosnia and Herzegovina has entered final lap of accession procedure.
June 10, 2013
Austrian Foreign Minister Michael Spindelegger underlines Russia´s importance for the domestic business location.
August 30, 2012