Valdis Dombrovskis
In the EU winter forecast for the level of economic output in the near future, Austria's and the whole Euro area's GDPs are said to grow by almost 4 percent in 2021 and 2022. Although the economies declined in the fourth quarter of 2020 and first quarter of 2021 due to the impact of the second wave, the economic outlook is still promising for the remainder of 2021 and 2022.
February 12, 2021
Executive Vice-President of the European Commission Dombrovskis highlights the importance of the young generation in rebuilding the economy after Covid-19. Unemployment needs to be tackled and sustainability and digital innovation will be supported.
September 2, 2020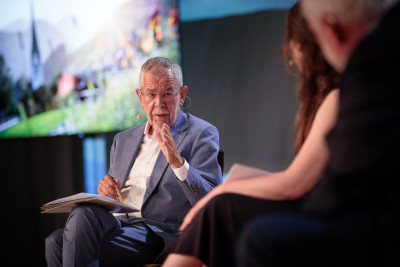 Austria's Federal President Alexander Van der Bellen opened the 75th European Forum Alpbach with his speech that focused on international cooperation and an environmentally friendly and sustainable future.
August 26, 2020
The European Forum Alpbach will be opened by Austria's President Alexander Van der Bellen on August 23 and will host various outstanding speakers, either in person or virtually, for 12 days.
August 18, 2020
In its assessment of the budget planning of the euro states, the European Commission has established that Austria fulfils the requirements of the EU Stability and Growth Pact in its budget planning for 2020.
November 20, 2019
At the heart of the new Commission's work is the need to address the changes in climate, technology and demography that are transforming European societies and way of life. Von der Leyen has structured and presented her team according to these requirements. Read below where the 27 commissioners come from and what they represent.
September 10, 2019
The Austrian economy is likely to grow by 1.5% in 2019. 1.2% growth is expected for the euro zone and 1.4% for the EU as a whole.
August 8, 2019
Prime Minister Valdis Dombrovskis explained that a raise of minimum wages to LVL 303 (€ 428) is not realizable at the moment.
March 12, 2013
The Baltic country wants to become a member of the Eurozone by 2014.
March 5, 2013
Latvia's leadership considers adopting the Euro in 2015 or 2016. Despite of showing the fastest economic growth rate at 5.1 % in Europe, there is scepticism Latvian population.
March 4, 2013
Latvia´s government is proud of its austerity course of the last years. According to Prime Minister Valdis Dombrovskis, the country is ready for the euro.
February 16, 2013
In an interview with the Austrian daily newspaper "Kurier", Latvia´s Prime Minister Valdis Dombrovskis explains why Latvia joins the Eurozone. However, the Latvians are not convinced at all.
January 30, 2013
Latvia´s Prime Minister Valdis Dombrovskis argues that euro-bonds may be implemented at the end of the convergence process.
December 11, 2012