UN General Assembly
Austria will host the 5th World Meeting of the Interparliamentary Union (IPU) from August 19 to 21, 2020. Presidents of parliaments from 178 states and around 1,200 delegates are expected. This is the first time that a national parliament, the Austrian Parliament, has hosted this conference. The World Meeting will be organised in cooperation with the IPU and the United Nations.
October 16, 2019 · Updated: October 17, 2019; 14:45
Austrian Foreign Minister Alexander Schallenberg addressed the UN General Assembly, stressing the need for enhanced international cooperation.
September 27, 2019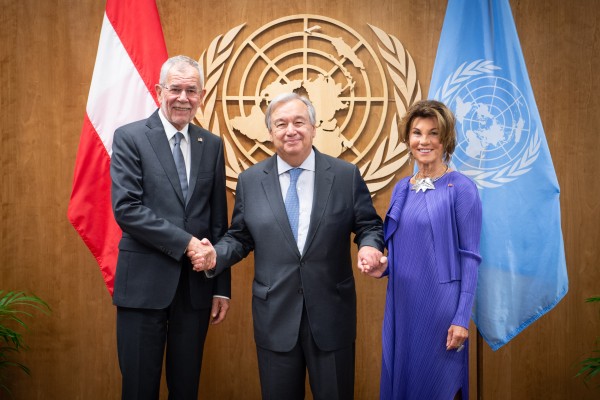 President Van der Bellen, Chancellor Bierlein, Environment Minister Maria Patek and activist Anika Dafert attended the 74th UN General Assembly in New York.
September 25, 2019
Tight schedule at the Annual General Meeting in New York City. Meetings with counterparts from Iran, Javad Zarif, Belarus, Vladimir Makei and Iraq, Mohamed Ali Alhakim and the President of the International Committee of the Red Cross Peter Maurer. A speech to the UN General Assembly is scheduled for Thursday. The strengthening of Vienna as a UN location is also on the agenda.
September 24, 2019
The United Nations General Assembly adopted a 10 year action-plan aimed at accelerating sustainable development in the world's 32 landlocked developing countries (LLDCs). A Business and Investment Forum was organized as an integral part of the 2nd United Nations Conference on Landlocked Developing Countries with the aim of exchanging views on the challenges and opportunities faced by LLDCs and to discuss possible partnerships and strategies in regards to the role of the private sector in the overall sustainable development of LLDCs. Also, Conchita Wurst performed live at the UN in Vienna for tolerance and mutual respect.
November 7, 2014