Svetlana Tikhanovskaya
On the occasion of the anniversary of the Russian invasion of Ukraine, there was a lively debate in the Austrian parliament about the attitude towards the aggressor Russia and about neutrality. An open letter in Austria, in which signatories call for a responsible debate about the country's neutrality, also fueled the session in parliament.
February 24, 2023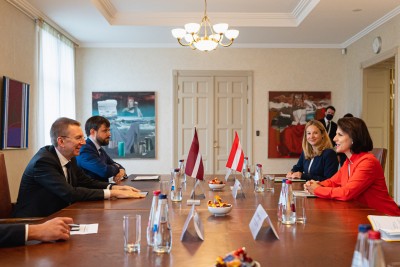 Austrian Minister for European Affairs Karoline Edtstadler embarked on a multi-country trip to Latvia, Lithuania, Cyprus, and Romania. The central topic of discussion is the increasing migratory pressure on the EU's external borders, especially from Afghanistan and Belarus. Minister Edtstadler emphasized the need for border security at the EU's external borders and for targeted sanctions on Alexander Lukashenko's regime.
September 15, 2021
Lithuania and Austria have indicated that they are in favor of putting new sanctions on Belarus in response to the significant increase in illegal border crossings on the Belarusian-Lithuanian border. Lithuanian Foreign Minister Gabrielius Landsbergis and Interior Minister Agnė Bilotaitė hosted their Austrian counterparts Alexander Schallenberg and Karl Nehammer at the border to discuss the ongoing situation.
August 26, 2021
At the Foreign Affairs Council (FAC) the EU Foreign Ministers have agreed upon renewed and tightened sanctions against the Belarusian regime. Austrian Foreign Minister Schallenberg warns that the agreed measures must not hit the civil society. Read more below.
June 22, 2021
Svetlana Tikhanovskaya, Belarusian opposition leader, and Austria's Chancellor Sebastian Kurz held a video conference to discuss the current developments in Belarus. Read more about possible sanctions below.
June 2, 2021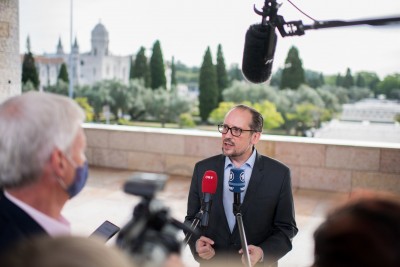 At the informal meeting of the EU Foreign Ministers in Portugal, Austria's Alexander Schallenberg and his European counterparts condemned the actions took by the Belarusian regime to arrest an anti-government blogger.
May 31, 2021
During her working visit to Vienna, the Belarusian opposition leader Svetlana Tikhanovskaya met with Austria's Federal President Alexander Van der Bellen, Chancellor Sebastian Kurz and Foreign Minister Alexander Schallenberg in order to discuss the continued support from Austria for the efforts of the Belarusian opposition and civil society.
April 30, 2021
The Belarusian opposition leader Tikhanovskaya visited Vienna to hold meetings with representatives of Austrian and European politics. Chancellor Kurz thanked Tikhanovskaya for her "tireless efforts" and reaffirmed Austria's support for a democratic Belarus.
November 6, 2020
The famous Belarusian opposition leader Svetlana Tikhanovskaya, who is currently trying to win the EU and European politicians over to help her and her supporters fight against the recent fraudulent election result, met Austrian Foreign Minister Schallenberg in Vienna.
October 8, 2020