Subrahmanyam Jaishankar
Austria's Foreign Minister Alexander Schallenberg welcomed his Indian counterpart Subrahmanyam Jaishankar to Vienna. It was the first visit of an Indian Foreign Minister to Austria in 27 years and the fifth meeting with Foreign Minister Schallenberg in the past twelve months.
January 3, 2023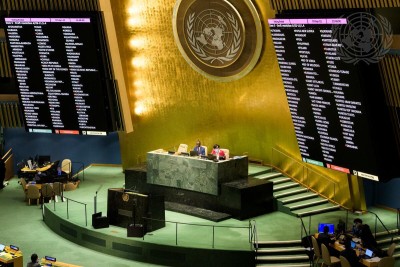 After more and more details about crimes committed by the Russian Army against the Ukrainian population become public, the UN General Assembly is taking action. With a necessary two-thirds majority, the deputies voted for an exclusion from the Human Rights Council. This is not the first time something like this has happened.
April 8, 2022
The initiative ReFocus Austria, accompanied by Austria's Foreign Minister Alexander Schallenberg, visited the emerging republics of Pakistan and India in recent days. The aim of the trip was to establish economic relations and promote mutual investments. Read on if you want to know which sectors are in particular demand.
March 23, 2022
Foreign Minister Schallenberg visited India to hold talks in the capital New Delhi. In addition to other regional and international security policy topics of discussion, the Russian war of aggression in Ukraine will be the main topic.
March 21, 2022