Sochi Dialogue Russian Austrian Forum
Against the backdrop of a simmering military-technical conflict between Russia and the West in Ukraine, Russian bilateral ambassador to Austria Dmitry Lyubinsky says Russian-Austrian ties in the sphere of culture and science have traditionally been "the trump card in relations between the two states."
January 18, 2022
Russian Ambassador to Austria Dmitrij Ljubinskij recently held an event to present a new book on the Russian Embassy in Vienna entitled "Moscow in Vienna: The Palais Nassau - Embassy of the Russian Federation in the Republic of Austria." Read about the event and the new book.
January 11, 2022
Recently the constituent general assembly of a new Russian-Austrian friendship society, the FÖR - Forum Österreich-Russland (Forum Austria-Russia) took place. The association, registered as a non-governmental organization, is headed by Dr. Richard Schenz and Dr. Christoph Matznetter, both former members of the Austrian-Russian Friendship Society (ORFG - Österreichisch-Russische Freundschaftsgesellschaft). The patronage has been taken over by the Ambassador of Russia in Vienna, H.E. Dmitrij Ljubinskij.
September 28, 2021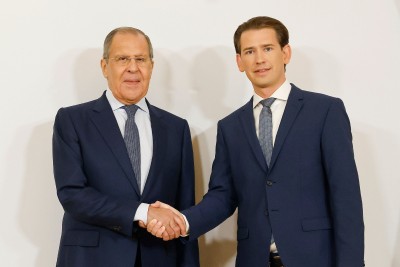 In the first official bilateral visit of the Russian Foreign Minister to Vienna since 2009, Sergey Lavrov met with Austrian Foreign Minister Alexander Schallenberg and Austrian Chancellor Sebastian Kurz. The working talks included tense issues like the annexation of Crimea, human rights in Russia, Afghanistan, and the refugees on the Belarusian-Lithuanian border. However, they all expressed interest in continued dialogue and finding areas for cooperation between Austria, the EU, and Russia.
August 26, 2021
The establishment of the Russian-Austrian civil society forum "Sochi Dialogue" dates back to an initiative by Vladimir Putin and Sebastian Kurz in February 2018. The forum's mission is to promote the exchange of views and ideas. What is the status quo?
July 20, 2021
Russian President Vladimir Putin answered APA CEO, Dr. Clemens Pig's questions about Austria-Russia relations, Belarus, freedom of movement, and freedom of information at the 24th St. Petersburg International Economic Forum (SPIEF).
June 29, 2021
In order to promote economic relations between the two countries, Ambassador Dmitrij Ljubinskij invited about 160 members of the Wirtschaftsforum der Führungskräfte (WdF) to the Russian Embassy in Vienna (Nassaupalais - Palais Simon Vienna).
January 31, 2020
The Sochi Dialogue Russian Austrian Forum was opened in the Black Sea port city as part of a working discussion between Russian and Austrian representatives from politics, business, science, education, art and culture.
May 15, 2019