Pamela Rendi Wagner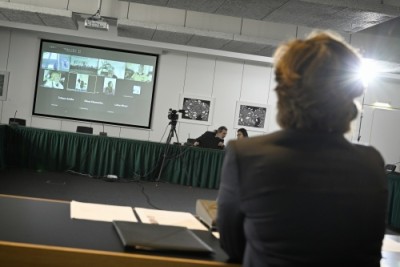 Members of the Austrian Parliament exchanged views on the situation in Ukraine with representatives of the Verkhovna Rada, the Ukrainian parliament.
May 23, 2022
Greek Foreign Minister Nikos Dendias visited Vienna to discuss the intensifying war between Russia and Ukraine. Read about his meetings with various officials and watch the joint press conference with Foreign Minister Schallenberg.
March 10, 2022
TV appearances in the Belarus state TV of two Austrians with close boundaries to the SPÖ led to an immense wave of criticism. One claims that the news coverage in Belarus is too European friendly. The other repeats a main propaganda message from Lukashenko's party.
August 25, 2020
A false coronavirus alarm paralysed train traffic between Italy, Austria and Germany. Meanwhile the far right Freedom Party demands that the National Security Council should discuss the situation and that travel to Austria from the affected regions should be restricted.
February 24, 2020 · Updated: February 24, 2020; 11:57
Next Monday, Federal President Van der Bellen will commission ÖVP leader Kurz to form a government.
October 2, 2019 · Updated: October 4, 2019; 13:03
The former head of the Austrian Federation of Trade Unions (ÖGB) and social minister Rudolf Hundstorfer died at the age of 68 on holiday in Croatia due to a heart attack.
August 20, 2019
After the victory in the election to the European Parliament, Chancellor Sebastian Kurz and his government are threatened with an abrupt end. The Social Democrats (SPÖ) will table their own motion of censure against the entire Kurz cabinet. A clear decision by the Freedom Party (FPÖ) is still pending.
May 27, 2019
Government crisis. Chancellor Kurz sticks to dismissal of interior minister. Right-wing populist FPÖ ministers leave government.
May 20, 2019
The former cultural manager, who was brought back into politics by Chancellor Christian Kern, will accompany the new party leader, Pamela Rendi-Wagner, as Federal Managing Director of the Social Democratic Party (SPÖ).
September 26, 2018
Pamela Rendi-Wagner, former Minister of Health and Women's Affairs, was nominated new party leader by the SPÖ party executive. This is the first time that a woman has assumed the position of SPÖ chairman. Andreas Schieder made room for Rendi Wagner, Thomas Drozda takes over the federal management from Max Lercher. Who is Rendi-Wagner and what will she do?
September 25, 2018 · Updated: September 26, 2018; 13:00
In the course of the crisis and the restructuring of the Austrian Social Democrats (SPÖ), Mr. Andreas Schieder has thrown in the towel by resigning today as club chairman.
September 25, 2018