Sponsored
Page 1/1
Niki Lauda
The international sports world and everyone who knew him bid farewell to Formula 1 legend Niki Lauda. Many celebrities were present at the funerals in St. Stephen's Cathedral in Vienna, along with his family, friends and companions. During the requiem, Austrian Federal President Alexander Van der Bellen said that we were standing at the coffin of a great Austrian.
May 30, 2019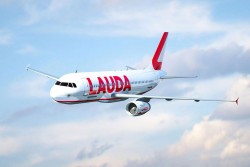 The Austrian Ryanair subsidiary, the low-cost airline Laudamotion, has separated from the name "Motion" for marketing reasons and is now called only "Lauda". In addition, the fleet will be expanded and more destinations will be served.
March 22, 2019
The Austrian Niki-Airline successor Laudamotion has now been taken over 100% by Ryanair. Ryanair last held three quarters of the shares of Laudamotion. No information was given about the price for the remaining 25 percent.
January 29, 2019
LaudaMotion is to become a powerful low-cost airline. Ryanair ultimately intends to acquire a 75 percent stake. From June 2018, a total of 65 routes are to be served from Vienna, from seven German airports (Berlin/Tegel, Cologne, Düsseldorf, Frankfurt, Munich, Nuremberg, Stuttgart) and from Zurich to the Mediterranean region and to the Canary Islands.
March 30, 2018
The Irish low-cost airline Ryanair is paying 100 million euros for the share. Ryanair will initially take over 24.9 percent of Laudamotion and intends to increase it to 75 percent, subject to the approval of the EU competition authority. The airline founder will continue to be in charge.
March 20, 2018
The private foundation of former Formula 1 driver Niki Lauda will acquire 1% of Signa Prime and a 10% stake in Signa Retail.
July 17, 2015
Austrian Airlines does not face strikes. Not only AUA´s management is under pressure. Workers fear a new foundation of AUA or a re-sale.
March 5, 2012
Niki Lauda, founder of the Austrian Airline FlyNiki, sells his 50.1% stake to the German Air Berlin.
November 8, 2011
The Middle Eastern airline was allowed to offer 13 connections per week from Dubai to Vienna.
October 28, 2011
The number of passengers departing from Vienna with Niki Lauda's airline grew by 29% in the first half of 2011.
July 27, 2011
Niki Lauda's airline achieved strong growth in 2010, regarding both passengers and sales. The EBIT declined however.
March 31, 2011
Vienna International Airport grants Austrian Airlines and Flyniki discounts. Flyniki rises to the second most important partner.
November 25, 2010
The owner and CEO of the Austrian low-cost airline Flyniki is considering a withdrawal from Austria. He is very upset over the tax on airline tickets to be implemented on January 1, 2001.
November 2, 2010