Nigeria
The new Ambassador of Nigeria to Austria and Permanent Representative of Nigeria to the United Nations (Vienna), Mr. Suleiman Dauda Umar, presented his credentials to the Federal President of Austria, Alexander Van der Bellen. Learn more about him.
July 15, 2021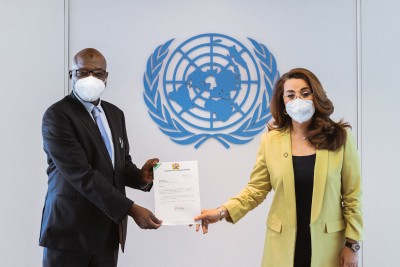 The new Permanent Representative of Nigeria to the United Nations (Vienna), Suleiman Dauda Umar, presented his credentials to the Director-General of the United Nations Office at Vienna (UNOV), Ghada Waly.
June 18, 2021
The Vienna-based OPEC Fund for International Development marks its 45th anniversary today. Since inception in 1976 by the Member States of OPEC, the multilateral development finance institution has approved more than US$25 billion in essential financing for 135 partner countries.
January 28, 2021
The IAEA Board of Governors elected by acclamation Ambassador Mikaela Kumlin Granit of Sweden as the Chairperson of the IAEA's Board of Governors for 2019–2020.
September 24, 2019
Both the UN United Nations and the EU European Union celebrate their 40th anniversary in Vienna. The Delegation of the European Union to the International Organisations in Vienna was established as soon as the United Nations opened their Vienna headquarters in 1979.
May 27, 2019
H.E. Mrs. Vivian Okeke is the Ambassador of the Federal Republic of Nigeria to the Republic of Austria, the Republic of Slovakia and Permanent Representative to International Organizations in Vienna.
July 27, 2017
Several Austrian companies from various industry sectors are looking for strong local partners and new opportunities for cooperation in Lagos.
May 20, 2016
The Organization of the Petroleum Exporting Countries (OPEC) today hosted its 167th Meeting of the OPEC Conference at the OPEC Secretariat in Vienna. Participants included OPEC Heads of Delegation and the Secretary General. There were some expectations that the production goal of 30 million barrels a day could move higher. However, the key issue the market was looking for will remain at 30 million barrels a day.
June 5, 2015
The 6th OPEC International Seminar, with the theme "Petroleum - An Engine for Global Development", aims to build on the previous events from the past decade. It is currently taking place at the Imperial Hofburg Palace in Vienna. The Seminar intends to underpin OPEC's commitment to stabilize the international oil market by promoting cooperation and dialogue with stakeholders around the world.
June 3, 2015
Austria concludes investment protection agreement with Nigeria.
November 13, 2012