Frank Walter Steinmeier
The heads of state of German-speaking countries met in Germany to discuss social cohesion after the Covid-19 pandemic and using the pandemic to move into a "more sustainable and resilient era". Read more about the meeting below.
June 30, 2021
At a working meeting in Germany, Austria's President Alexander Van der Bellen and his German counterpart Frank-Walter Steinmeier discuss European unity and bilateral cooperation with regard to the Covid-19 pandemic. Read more below.
June 7, 2021
A year of Covid-19 pandemic, lockdowns, travel restrictions and similar life-changing measures has also impacted the international cooperation for Austria's Federal President Van der Bellen. Despite the circumstances, Van der Bellen tried to "maintain foreign policy contacts" and emphasizes the importance of international cooperation during a pandemic.
April 2, 2021
The German Interior Minister Seehofer and Austria's Chancellor Kurz have met in Berlin to discuss the ongoing Covid-19 pandemic. The two politicians agree on the fact that due to a decrease of the South African variant of Covid-19 in Tyrol, border controls between Germany and Austria can be suspended in the near future.
March 19, 2021
To commemorate the November pogrom on November 9, 1938, Federal President Van der Bellen, together with his Israeli and German counterparts, sent a memorial message. Together they want to fight against anti-Semitism and promote peace and security for Jewish communities.
November 10, 2020
Federal President Alexander Van der Bellen invited his German counterpart Frank-Walter Steinmeier accompanied by Elke Büdenbender to a festival and working visit in Salzburg. Both presidents agreed on the fact that artists are in a very difficult situation at the moment and need to be supported.
August 24, 2020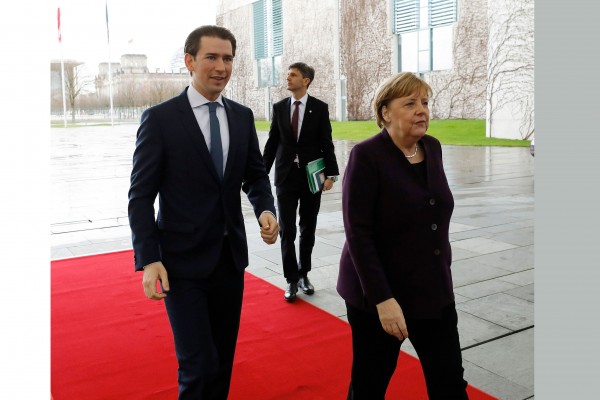 The multi-year financial framework, the EU's future process and climate protection in focus at meetings with Chancellor Merkel. There is broad agreement on the financial framework, but on many other issues the chancellors are far apart.
February 3, 2020
Guests from around 200 countries attended the ceremony of the enthronement of Emperor Naruhito in the Japanese Imperial Palace in Tokyo, including Federal President Alexander Van der Bellen and Doris Schmidauer.
October 22, 2019
The newly appointed Ambassador of the Federal Republic of Germany H.E. Mr. Ralf Beste met the First President of the National Council Wolfgang Sobotka in Parliament.
October 15, 2019
This year's informal meeting of German-speaking heads of state with Federal President Frank-Walter Steinmeier, Grand Duke Henri of Luxembourg, King Philippe of Belgium, Federal President Ueli Maurer, Hereditary Prince Alois von und zu Liechtenstein and Federal President Alexander Van der Bellen took place in Linz. The main topics were current political questions from the respective countries and the future of Europe based on the results of the European elections.
June 5, 2019
OSCE Chairperson-in-Office and Germany's Foreign Minister Frank-Walter Steinmeier and OSCE Secretary General Lamberto Zannier today congratulated Christine Muttonen on her election as President of the OSCE Parliamentary Assembly.
July 6, 2016
OSCE to serve as a platform for real and honest dialogue on today's security challenges, says Steinmeier, as Germany formally assumes 2016 OSCE Chairmanship.
January 15, 2016
Foreign Ministers Dačić, Steinmeier and Burkhalter called for the immediate establishment of Working Groups as provided for in the February 12 Package of Measures for the implementation of the Minsk agreements and proposed by Special Representative Ambassador Heidi Tagliavini and the Trilateral Contact Group.
April 28, 2015
Getting out of the zone of uncertainty and instability, this is the aim of the Moldovan Prime Minister Iurie Leanca.
April 10, 2014