Embassy of France in Vienna
Delphine Hournau-Pouëzat, France's new permanent representative to the United Nations (Vienna), presented her credentials to the Director-General of the United Nations Office at Vienna, Ghada Waly. Meet Ambassador Delphine Hournau-Pouëzat, the new Permanent Representative of the French Republic to the International Organizations in Vienna.
September 20, 2022
French President Emmanuel Macron received the Director General of the International Atomic Energy Agency (IAEA), Rafael Mariano Grossi. The meeting between the two dignitaries focused on the threat posed by Russia's war against Ukrainian civilian nuclear facilities. Macron assured the IAEA Director General of France's support in the IAEA's upcoming mission to Ukraine's Zaporizhzhya nuclear power plant.
August 28, 2022
The French Embassy in Vienna is located in a palace on Schwarzenbergplatz and is considered unique worldwide with its "Art Nouveau" style. The beautiful building can look back on a history of over 100 years. Learn more about this historical building.
August 9, 2022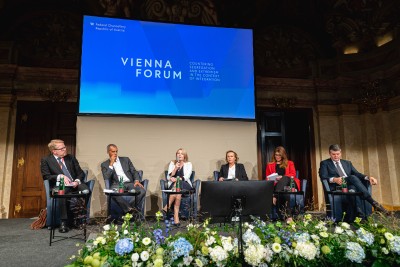 Austrian Integration Minister Susanne Raab hosted the "Vienna Forum on Countering Segregation and Extremism in the Context of Integration." Various officials from across Europe came to discuss the fight against extremist movements such as "political Islam." Read about the key areas that Raab and the others agreed upon at the event.
November 4, 2021
The Ambassador of the French Republic to Austria, Mr. Gilles Pécout, presented his credentials to the Federal President of Austria, Alexander Van der Bellen. Read more about him.
July 12, 2021 · Updated: July 12, 2021; 13:43
Several Vienna Embassies marked the International Day Against Homophobia, Biphobia and Transphobia (IDAHOBIT 2021) by expressing solidarity in a common statement. The French Embassy in Vienna released a video drawing particular attention to sexual discrimination in sports.
May 18, 2021 · Updated: May 18, 2021; 22:55
76 years ago on May 8, World War II ended in Europe. Despite Covid restrictions, selected Viennese embassies held commemorative events.
May 9, 2021
The French President Macron had planned to travel to Austria to meet with Sebastian Kurz. However, due to the Covid-19 measures in place, the two politicians will only meet virtually. After the recent terror attack in Vienna as well as in Nice, the topic of discussion will be the fight against Islamist terrorism. A common European approach is demanded and will also be discussed during the working meeting.
November 4, 2020
After the murder of a French teacher in Paris, French ambassador Pécout met Austria's Integration Minister Raab to discuss parallel societies and extremism. They both agreed on the importance of integration and the vehement and rigorous fight against extremism.
October 23, 2020
Embassy representatives from French-speaking African countries, representatives of the French Office for Immigration and Integration and representatives of the Austrian Ministry of the Interior met in Vienna to strengthen cooperation in the field of return and reintegration.
November 12, 2019