Newsletter: Vienna International News
Further EUR 4 billion intended to help Austrian companies sustain the Covid-19 crisis were approved by the European Commission. Grants and guarantees of up to EUR 800,000 per company can be given out in cases of hardship and danger of bankruptcy.
The newly formed initiative "European Capital of Democracy" will try to give civilization more access to democracy by supporting activities and events that aim to improve and strengthen democracy. The first capital will be selected next year.
Like many other events in 2020, the Long Night of Research will be held virtually this year. Although the live experiences will be missed, the digital format offers a variety of other advantages to the interested public.
Federal Chancellor Kurz has submitted a video message to the United Nations in which he emphasized Austria's commitment to international cooperation. He also praised UN's achievements, such as the human rights system and the Agenda 2030.
The EU Foreign Ministers met in Brussels to discuss current issues such as developments in Belarus and Libya. Austria's Foreign Minister Schallenberg demands a "strong signal" from the EU towards the Belarusian government.
The start-up event ViennaUP'21 will be at the center of the international start-up scene in the spring of 2021. Many well-known formats have already assured their participation and will move the spotlight to Vienna from April 27 to May 12 2021.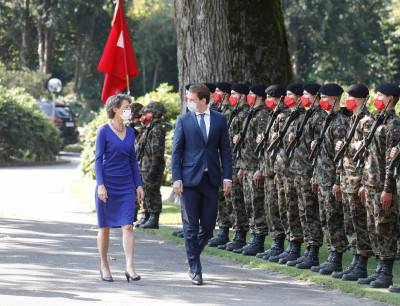 Swiss President Sommaruga and Austria's Chancellor Kurz met near Bern to discuss current topics related to the Covid-19 pandemic and the cooperation between the two countries. Kurz also met with CEOs of leading Swiss pharmaceutical companies to discuss the current vaccine developments.
The new Ambassador Extraordinary and Plenipotentiary of Latvia to the United Nations, the OSCE and other International Organizations, Katrīna Kaktiņa presented her credentials to the Director-General of the UN Office in Vienna (UNOV) and Executive Director of the UN Office on Drugs and Crime (UNODC).
Esther Monterrubio Villar, the new Permanent Representative of Spain to the United Nations Office at Vienna (UNOV), presented her credentials to the Director-General of UNOV, Ms. Ghada Waly.