Sponsored
Page 1/1
Supreme Administrative Court of Austria VwGH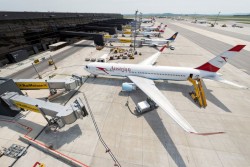 The Austrian Administrative Court has rejected objections from citizens' initiatives and residents and confirmed the authorization for the construction of the third runway at Vienna Schwechat Airport.
March 21, 2019
The judgement of the European Court of Justice published yesterday is now available at Vindobona.org and can be reviewed by interested parties. According to Chancellery Minister and Austrian People's Party government coordinator Gernot Blümel, the Austrian federal government will also do the same, according to which the status quo will be maintained and no new holiday will be introduced. But until Austria changes the clause, employers would have to grant all employees the right to a holiday on Good Friday. If employees could not make themselves free, they would be entitled to additional pay.
January 23, 2019
The duration of proceedings in asylum cases at the two Austrian Supreme Courts, Constitutional Court of Austria (VfGH) and Supreme Administrative Court of Austria (VwGH), is continuously decreasing.
April 10, 2018
The Austrian Financial Market Authority (FMA) has imposed the highest fine ever imposed by the FMA, i.e. a fine of EUR 2.748 million against Raiffeisen Bank International AG.
April 1, 2018