North Africa
The United Nations Office on Drugs and Crime released its annual World Drug Report. The Report highlights new trends on cannabis post-legalization, environmental impacts of illicit drugs, relations between drug markets and conflict zones like Ukraine, and drug use among women and youth. Learn more about the World Drug Report 2022.
June 29, 2022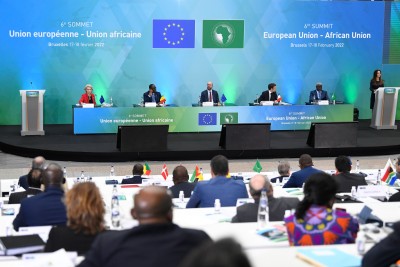 Following the 6th European Union - African Union Summit, Austria announced that it would provide € 5 million in humanitarian aid to Ethiopia, South Sudan, and Tunisia. Read about Austria's efforts to alleviate some of the migration pressure caused by conflicts in Africa.
February 18, 2022
The Austrian government has decided to provide millions of euros to help Tunisia, Libya, Palestine, and Jordan deal with the humanitarian crises they are facing. Read how this aid will be allocated and why Austria believes it is necessary.
December 3, 2021
The Austrian Foreign Ministry under Michael Linhart is developing a new Africa strategy for Austria. A motion for a resolution has been filed in parliament that requests that the foreign ministry includes restitution of cultural artifacts and assets as part of this strategy. Read more about the motion.
October 20, 2021
It is the first supply from the war-torn country for the Austrian oil and gas group since March.
September 22, 2011
The Austro-Australian oil and gas exploration and appraisal company started drilling operations for the Tunisian exploration well.
August 29, 2011
In view of the approaching end of the Gaddafi regime Austrian companies start preparations for an early return to the North African country.
August 22, 2011
The events in North Africa and the Middle East adversely impacted results of the Austrian oil and gas group: clean CCS EBIT and net income were both down 25%.
August 10, 2011
The Tunisian army will guard the drilling project of the Austro-Australian oil and gas exploration and appraisal company at the Sidi Dhaher well.
June 10, 2011
The Austrian construction company had to stop projects worth € 350m, which resulted in a decrease in business backlog by 3% to € 15.2bn.
June 10, 2011
Austria and Luxembourg drive for support. Special attention is paid to education and know-how.
March 3, 2011