Maia Sandu
During the 8th edition of the Three Seas Initiative Summit, the prestigious halls of the Cotroceni Palace welcomed Central and Eastern European leaders. This gathering was a demonstration of unity and determination against a backdrop of increasing geopolitical tension. On this same occasion, the President of Austria stressed support for Ukraine and the common fight against global warming.
September 20, 2023
July 26, 2023, marks the start of the 4th Salzburg Summit, a high-profile international business and future conference that will take place on the fringes of the renowned Salzburg Festival. The event will be formally opened by EU Budget Commissioner Johannes Hahn and the President of the Federation of Austrian Industries (IV), Georg Knill. In light of recent global challenges, including a war on European soil and the global COVID-19 pandemic, the summit is dedicated to the goal of a sustainable future for Europe amid uncertainty.
July 23, 2023
The Organisation for Security and Cooperation in Europe (OSCE) Chairman-in-Office and Foreign Minister of North Macedonia Bujar Osmani visited Moldova. The country needs the support of the OSCE as it could be next on Russia's list after Ukraine.
February 14, 2023
The international community in Vienna and around the world, as well as numerous top politicians, have congratulated Federal President Alexander Van der Bellen on his re-election. The congratulations came from heads of state of different political camps, diplomats of various countries and other dignitaries.
October 10, 2022
The Find out more about this week's developments. Last week was turbulent for the most important matters of diplomacy in Vienna. The war in Ukraine, the European Forum Alpbach or the efforts of international organizations in Vienna towards peaceful solutions shows once again how multifaceted diplomacy is. Read about the latest developments in diplomacy in Vienna and Austria.
August 25, 2022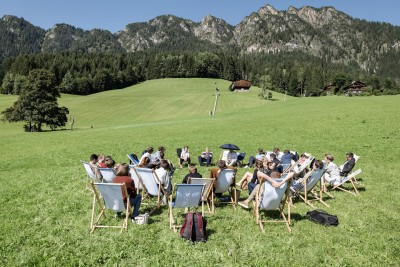 The 77th Forum was officially opened by the President of Moldova, Maia Sandu. The Austrian Chancellor Karl Nehammer also gave a speech in the course of the opening. After more than two Corona years, the Forum is held again in full capacity and is marked by the war in Ukraine.
August 22, 2022
The Moldovan President, Maia Sandu, will attend the opening of this year's European Forum Alpbach (EFA) together with Federal President Alexander Van der Bellen on August 22. At the start of the event, they will jointly address the EFA's annual theme, The New Europe, and discuss what consequences, in light of Russia's Invasion of Ukraine, Europe must draw from its current weakness and its inaction in the past.
July 27, 2022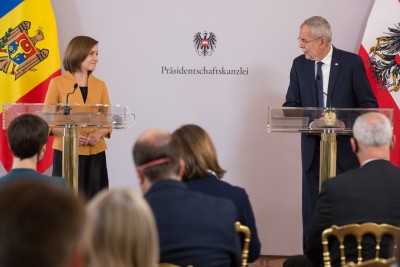 The President of Moldova, Maia Sandu, made her first official visit to Austria and met with President Van der Bellen. Read about the meeting between the two heads of state and what they discussed.
October 22, 2021