German Federal Foreign Office - Deutsches Auswaertiges Amt
The Association Agreement between the European Union and MERCOSUR countries, such as Argentina, Brazil, Paraguay and Uruguay, includes provisions on political dialogue, cooperation and trade. For the Austrian Federal Chamber of Commerce, the agreement is a fair trade deal that increases exports and jobs, and high social and environmental standards remain untouched. The EU would be the first region to conclude an agreement with Mercosur.
November 4, 2022
Foreign Minister Schallenberg attended a meeting of the EU Foreign Affairs Council in Brussels. The meeting, which U.S. Secretary of State Antony Blinken also attended virtually, focused on the ongoing crisis between Russia and Ukraine. Read about the meeting and watch an interview with Foreign Minister Schallenberg.
January 26, 2022
After only two years in Vienna, Germany's ambassador to Austria is set to become head of the culture and communications department in Berlin under Annalena Baerbock.
January 12, 2022
Negotiations on reviving the nuclear deal between Iran and world powers are already continuing in Vienna. Two new representatives from Germany and the United Kingdom joined the talks at the start of the current round of negotiations. Find out who they are.
January 11, 2022
With the departure of the Chinese Li Yong (70) from the helm of UNIDO, a golfing member of the Communist Party of China has left the influential post of Director General in a major multilateral institution after 8 years in office.
December 9, 2021
During the 19th session of the United Nations Industrial Development Organization (UNIDO) General Conference, which concluded last Friday, Dr. Gerd Müller, formerly Minister for Economic Cooperation and Development in the Federal Republic of Germany, was confirmed as the new Director General for a period of four years. Gerd Müller of Germany succeeds Li Yong of China. Review Dr. Müller's background and CV.
December 7, 2021
As of Sunday, Austria is again considered a Covid high-risk area. Returning travelers and travelers from Austria to Germany will again have to go into quarantine. What can vaccinated and recovered people do to avoid having to go back into quarantine?
November 12, 2021
Germany's Federal Minister for Economic Cooperation and Development Mr. Gerd Müller has been selected to become the next Director General of the United Nations Industrial Development Organization (UNIDO). Learn more about Mr. Gerd Müller (Mueller) and read what he and German Foreign Minister Heiko Maas said about his nomination.
August 18, 2021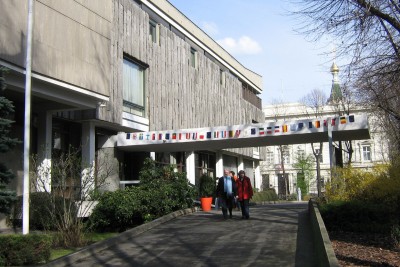 The rich history of the building(s) of the German Embassy in Vienna reflects both the history of Germany and its relationship with Austria.
May 10, 2021
After Germany had warned against travel to Vienna, Tyrol and Vorarlberg last week, rising Covid-19 infection rates in other parts of Austria have led to an expansion of the travel warnings to almost every federal state of Austria. These warning will be in effect on Saturday with no end in sight.
October 22, 2020
Because of too high corona infection figures, the German government now warns against "unnecessary, touristic" trips to Vienna. Vienna is classified as a risk area in view of the high number of new corona infections.
September 16, 2020