Newsletter: Vienna International News
Director General Grossi Grossi traveled to Iran over the weekend to search for a way out of the recently escalated nuclear dispute. The counterparts agreed that Iran continues for up to 3 months to implement fully and without limitation its Comprehensive Safeguards Agreement with the IAEA as before. Austria's Foreign Minister Schallenberg also welcomes the fact that controls on Iran's nuclear program will continue for the time being.
On February 21, 2021, Austria "celebrates" its Equal Pay Day. The current gender gap in income is at 14.3 percent, which amounts to 52 days of the year in which women work uncompensated. Austria's Women's Minister Susanne Raab uses the occasion to install certain measures that aim to reduce this difference.
The head of parliaments from the Czech Republic, Slovakia and Austria met virtually to discuss the current Covid-19 situations in the respective countries. Vondráček, Kollár and Sobotka agreed on good communication between the countries regarding border controls, but also talked about the EU accession process of the Western Balkan states.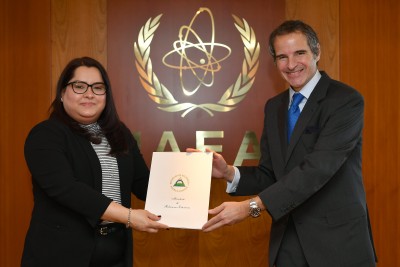 The new Permanent Representative of Nicaragua to the United Nations (Vienna), Sabra Amari Murillo Centeno, presented her credentials to some of the international organizations in Vienna.
Some of Germany's top politicians met with Austria's Minister for European Affairs Karoline Edtstadler in Berlin in order to discuss the joint fight against the Covid-19 pandemic and strategies against anti-Semitism. All the exchanges led to the conclusion that it is paramount to create unified approaches for testing and vaccines.
The Slovak President Zuzana Čaputovà met Austria's Federal President Alexander Van der Bellen virtually in order to discuss the Covid-19 pandemic, Austrian aid to Slovakia and the climate crisis. Both head of states demand that the "relaunch of the economy in the EU must be sustainable" after the Covid-19 crisis.
The international rating agency ISS has awarded ÖBB-Infrastruktur AG the first place out of 55 international transport companies for its commitment to sustainability, climate protection and eco-efficiency. Austria's Climate Protection Minister Gewessler is delighted about the international recognition for ÖBB and emphasizes that climate protection is the right path for the future.