Young Austrians Invited to Attend Paris Internet Conference as WSA Experts by UNESCO
The UN Educational, Scientific and Cultural Organization (UNESCO) is holding a consultation on Internet content on February 22-23. Young social media activists from Austria are invited as World Summit Award (WSA) experts.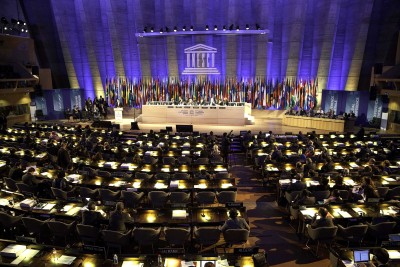 UNESCO Has Invited Young Social Media Activists from Austria as WSA Experts in Paris. / Picture: © Wikimedia Commons / Cancillería Ecuador from Ecuador, CC BY-SA 2.0 (https://creativecommons.org/licenses/by-sa/2.0)
On the conference theme "Internet4Trust Forum", two digital youth delegates, Charlotte Ernst, a Viennese social media young entrepreneur, and Arsham Edalatkhah, an Iranian-born student at HTL Leonding, will be invited via nomination of the ICNM's Austrian initiative WSA to address the entire global delegates conference on February 23.
In the eyes of ESC Chairman Prof. Dr. Peter A. Bruck, the two ESC youth delegates can contribute crucial perspectives to the development of a multistakeholder policy: "Young people don't just use the Internet; they live in the social media world." "Digital applications and platforms are shaping all areas of life. For UNESCO and global development, WSA points to quality content to bridge the digital divide, combat hate speech, open filter bubbles, and strengthen democracy," Bruck elaborates. Maria Ressa, CEO of 2015 WSA winner "Rappler" and 2021 Nobel Peace Prize laureate, will open the conference on Feb. 22 at noon.
On February 24, ESC youth delegates will discuss online their impressions of the UNESCO conference under the theme "You want our data and our voices? Big Tech and Governments, Listen to Us." Experts from the global WSA network will discuss the findings and reflections on the Internet4Trust conference with high-level UNESCO representatives.
WSA was initiated in 2003 by the Republic of Austria as a member state contribution to the UN World Summit on Information Society conference to award local digital content and showcase it globally. The WSA reaches digital social ventures in 187 UN countries and has awarded a winning list of more than 900 products and projects in 22 years. WSA is thus a globally recognized seal of quality for digital innovation with social impact.