International Mobility Days 2020 Held Virtually
The International Mobility Days of the Austrian Federal Chamber of Commerce are held virtually. The mobility industry is one of the fastest evolving industries and the future of transportation, especially in growing cities, is a topic that has been dominating international entrepreneurial acton for years.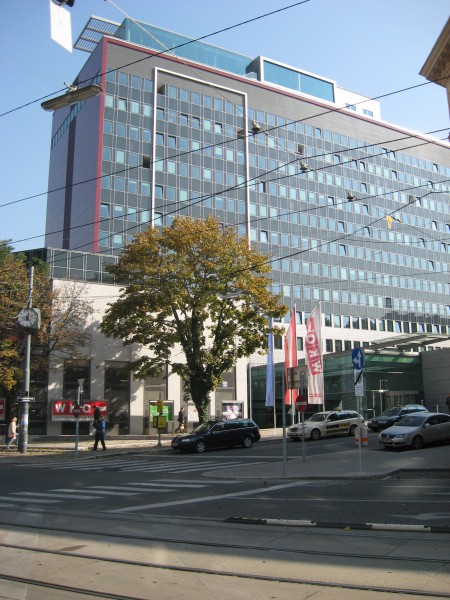 The Austrian Federal Chamber of Commerce (WKO) holds the virtual International Mobility Days 2020. / Picture: © Wikimedia Commons / Robert Schediwy [CC BY-SA 3.0]
How realistic is the vision of autonomous driving? Will we fill up with hydrogen in the future? And will the drone soon be bringing us groceries?
These and many other questions will be the focus of the International Mobility Days 2020 of the Austrian Federal Economic Chamber (WKO).
These days will take place on November, 19 and November 20, 2020.
It is the first time that the event takes place completely virtually, linking companies with experts from more than 65 nations to exchange views on current developments in the mobility sector.
The mobility industry is facing massive upheaval, not least due to the current Covid-19 pandemic.
In numerous panels and break-out sessions, more than 1,000 participants will learn, among other things, about the future of public and urban transport and the impact of digitalization on the transport sector - keyword "Mobility as a Service".
The International Mobility Days will also present innovative and sustainable mobility and transport solutions "made in Austria" to foreign guests.
"Austrian mobility solutions are known worldwide for their high quality and sustainability. Many of our companies are international technology and innovation pioneers in this field. Not least thanks to a strong export ratio of up to 90 percent, the domestic automotive industry thus contributes a good six percent to the domestic GDP," says Mariana Kühnel, Deputy Secretary General in the Austrian Federal Economic Chamber, emphasizing the importance of the domestic mobility sector.
At the same time Austrian companies learn more about export opportunities and possibilities for further internationalization.
A tried and tested core element is the B2B conversations, which also work well digitally:
Companies get to know potential partners in an uncomplicated way and can thus initiate new business.
WKO's business delegates will also give an insight into the world's most important mobility industries.
"With the virtual International Mobility Days, we enable our members to explore new business opportunities even in times of physical distance, so that we can get off to a successful start together after the pandemic. Because new, reliable business partners are essential in these challenging times to ensure a successful future 'Made in Austria' ", Kühnel concluded.
The event can be followed here.