Sponsored
Page 1/1
Volker Tuerk
Austria's top diplomat in the UNHCR, a United Nations Programme, the international law expert Dr. Volker Türk has made an appeal to governments, NGOs and individuals to rethink refugee protection and to implement the UN Global Compact for Refugees adopted in 2018.
June 6, 2019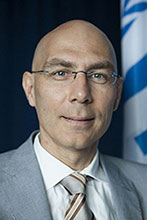 The Austrian lawyer and UN official Volker Türk was appointed by UN Secretary-General António Guterres as one of his deputies with the title Assistant Secretary-General for Strategic Coordination.
April 19, 2019
Combating human trafficking along migration routes will be in focus at a high-level conference on 6-7 July in Vienna. The conference will draw attention to the impact of state migration policies on trafficking in human beings, the increasing risk of being trafficked during times of crisis, and the special vulnerability of unaccompanied minors on the move.
June 29, 2015