US Mission to International Organizations in Vienna
U.S. Ambassador Victoria Kennedy hosted a festive reception at her residence to mark Independence Day. The event was attended by numerous friends and partners to celebrate this significant day together.
July 10, 2023
Read about the newest developments in Diplomacy in Vienna and Austria. Further, Austria is strengthening its efforts to fight global and local grievances. Austrian Foreign Minister Schallenberg visited Serbia and Kosovo. The Find out more about this week's developments.
June 19, 2022
IAEA has received over €9 million, pledged by six countries, to support its new cancer care initiative, "Rays of Hope". The initiative wants to establish and expand radiotherapy services, with a particular focus on countries, that completely lack facilities for radiation treatment.
June 16, 2022
Due to recent developments, the Board of Governors of the International Atomic Energy Agency (IAEA) reprimanded Iran's behavior toward the UN nuclear watchdog. Previously, the latter had neglected to declare three undeclared sites with detected uranium traces. Now it is accused of lack of cooperation.
June 9, 2022
The race for space supremacy, which first began as a competition between the rivals of the First Cold War - the United States and the Soviet Union - and which is now continuing in the Second Cold War between Russia, the United States, China and smaller emerging powers, is intensifying.
March 30, 2022
Space is an important future avenue for exploration, research, and commerce. This makes it all the more important for the nations of the world to negotiate these unlimited possibilities and to work out cooperation through diplomatic channels. One of them is the Committee on the Peaceful Uses of Outer Space (COPUOS) of the United Nations Office on Outer Space Affairs (UNOOSA). The COPUOS organizes a Legal Subcommittee which is held this week.
March 30, 2022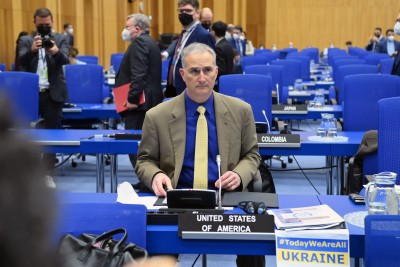 At an emergency meeting of the IAEA Board of Governors, the Board condemned the unprovoked attacks against Ukraine and discussed the status of the nuclear safeguards in Ukraine. Read more about the Board's meeting and the current situation regarding Ukraine's nuclear power plants.
March 3, 2022
Professional U.S. diplomat with expertise in nonproliferation, nuclear deterrence, nuclear security, disarmament, nuclear energy and other related areas becomes ambassador at a time when Europe is facing the greatest threat of war since World War II.
February 1, 2022
Laura Susan Hayes Holgate, an American diplomat who was already accredited as the United States Ambassador to the United Nations International Organizations in Vienna and to the IAEA for six months between 2016 and 2017, is back under President Joe Biden.
January 16, 2022
The Acting Deputy Chief of the U.S. Mission to International Organizations in Vienna is currently Leslie Hayden. Ms. Hayden has had a distinguished career as a member of the foreign service. Learn more about her and her impressive accomplishments.
November 25, 2021