Kazem Gharib Abadi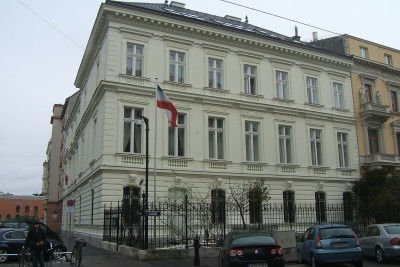 The Palais Sigray St. Marsan, which houses the Iranian Embassy in Vienna, has a fascinating history dating back to the late 19th century. Learn more about this historical building.
December 14, 2021
After serving for over three years as Iran's Permanent Representative to the International Organizations in Vienna, Kazem Gharib Abadi is now the Vice-President of Iran's Judiciary for International Affairs and Secretary-General of Iran's High Council for Human Rights. Read more about Mr. Gharib Abadi's career path.
December 13, 2021
The Joint Commission of the Joint Comprehensive Plan of Action (JCPOA) talks between China, France, Germany, Russia, the United Kingdom and Tehran on reviving the Iran nuclear deal will convene in a physical format on 29 November 2021 in Vienna, the EU says.
November 5, 2021
Director General Grossi Grossi traveled to Iran over the weekend to search for a way out of the recently escalated nuclear dispute. The counterparts agreed that Iran continues for up to 3 months to implement fully and without limitation its Comprehensive Safeguards Agreement with the IAEA as before. Austria's Foreign Minister Schallenberg also welcomes the fact that controls on Iran's nuclear program will continue for the time being.
February 22, 2021
The new Ambassador of the Islamic Republic of Iran to Austria and to Slovakia, H.E. Mr. Abbas Bagherpour Ardakani presented Austrian Federal President Alexander Van der Bellen with his letter of accreditation at the Vienna Hofburg.
July 12, 2020 · Updated: September 25, 2020; 10:30
H.E. Kazem Gharibabadi, the new Permanent Representative of the Islamic Republic of Iran, presented his credentials to the International Organizations in Vienna.
July 3, 2018