Food Security
Austrian Foreign Minister Alexander Schallenberg met with his Macedonian counterpart Bujar Osmani, where they discussed several topics including topics regarding the Organization for Security and Cooperation in Europe (OSCE). From January 1, North Macedonia has taken over as the chair of the organization for this year.
January 11, 2023 · Updated: January 20, 2023; 12:00
The Austrian Ministry of Agriculture will increase funding for international food aid significantly. The Austrian Minister of Agriculture Norbert Totschnig traveled to Libanon to observe the situation.
December 23, 2022
The Find out more about this week's developments. Former ÖBAG head Thomas Schmid incriminates former Chancellor Sebastian Kurz before public prosecutors for corruption. Austria forges new partnerships with other states against illegal migration. Read about the latest developments in diplomacy in Vienna and Austria.
October 20, 2022
In order to support states that have been hit particularly hard by national or international conflicts as well as by natural disasters and climate change, the Austrian Federal Government made 8 million euros available from the Foreign Disaster Fund. The money will go to organisations that are active in Yemen and East Africa.
October 20, 2022
The Russian invasion of Ukraine has brought the issue of food supply into global focus. Therefore, the Austrian Federal Ministry of Agriculture and Forestry budget will be increased to 20 million euros annually from 2023-2025. A strategic partnership between Austria and the World Food Programme (WFP) is also in the works.
October 16, 2022
By intervening in Ukraine, the Russian war of aggression and resulting food crisis have exacerbated the already existing humanitarian crisis in Lebanon. Financial resources from the Foreign Disaster Fund have recently been released by the Austrian Federal Government to assist on the ground in order to help.
July 28, 2022
After his stay in Israel, Austrian Chancellor Karl Nehammer visited the island of Cyprus where he spoke with Cypriot President Nikos Anastasiadis about the issue of illegal immigration. Also on the agenda were topics such as food security and a visit to the UNFICYP peacekeeping force.
July 14, 2022
Aid organizations in Afghanistan and the surrounding region will receive seven million euros from the Foreign Disaster Fund (AKF) to alleviate the acute humanitarian emergency of Afghan civilians. In this way, internally displaced persons and Afghan refugees will receive effective assistance close to home, thereby preventing cross-regional migration to Europe.
July 6, 2022
During his first live address to Austria Thursday, Ukraine's president Volodymyr Zelenskyy made an emotional appeal. Moreover, he called for tougher sanctions against Russia as well as increased support for Ukraine. Selenskyj said during a 4Gamechangers festival circuit that the war is also a "gamechanger" for Europe. An earlier appearance by Hollywood star George Clooney created a stir.
July 5, 2022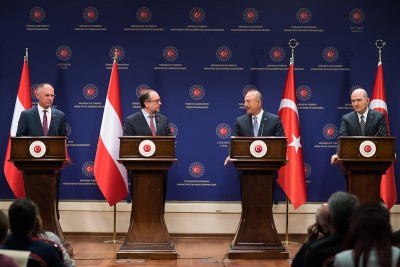 Austria's Foreign and Interior Ministers were recently on a working trip to Turkey. The two politicians met their respective counterparts to discuss acute issues such as food security or illegal migration triggered by the conflict in Ukraine. The two ministers are currently travelling together and have been in Egypt for the past few days.
July 5, 2022
Austria sees the EU Commission's proposal to grant Ukraine and Moldova the status of EU accession candidates as a historic opportunity as a clear signal of the EU's strength. Nevertheless, Austria also has a responsibility towards the Western Balkans and should not ignore them. Read on if you want to learn more.
June 21, 2022
Austrian Chancellor Karl Nehammer and Austria are against a gas embargo and Chancellor Nehammer emphasized that a gas embargo will not be part of further sanctions.
May 31, 2022
UN Secretary-General Antonio Guterres once again warned of an impending increase in global famine at the recent meeting on global hunger taking pace at UN Headquarters. He highlighted the importance of the wheat supply shortfall from Ukraine and outlined a five-point plan to avert the coming crisis.
May 20, 2022
The number of people going hungry worldwide continued to rise in 2021. Several factors contributed to the increase, including conflicts, economic crises, and weather extremes, according to a report released today by the Network Against Food Crises.
May 4, 2022