Bruno Kreisky
A vernissage was held recently to open a special exhibition at the Czech Embassy in Vienna titled "Artistic Vienna".
September 14, 2022
Since the days of the Cold War, Vienna has also played host to "science diplomacy," and it is conducted at Schloss Laxenburg (near Vienna, to be exact). There resides the IIASA international research institute, which was founded in 1972 and today plays a leading role in promoting this concept as a key tool for building trust between nations and supporting foreign policy.
February 1, 2021
US Ambassador in Vienna Trevor Traina praises the improvement of US-Austrian relations in the recent year. A visit of President Donald Trump to Vienna is likely to happen once the travel restrictions fall.
August 20, 2020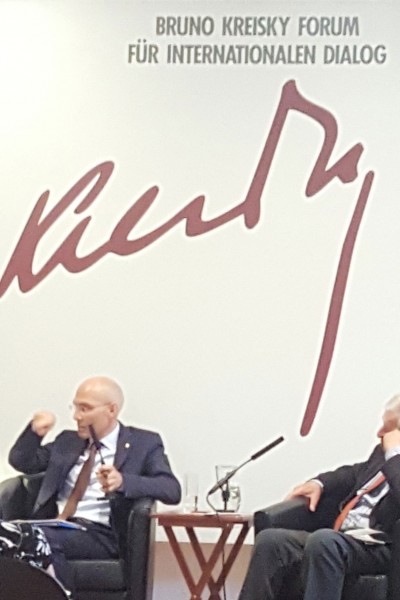 Austria's top diplomat in the UNHCR, a United Nations Programme, the international law expert Dr. Volker Türk has made an appeal to governments, NGOs and individuals to rethink refugee protection and to implement the UN Global Compact for Refugees adopted in 2018.
June 6, 2019
On the occasion of the 40th anniversary of the VIC Vienna International Centre (UNO-City), UN Secretary General António Guterres, former Foreign Minister Karin Kneissl and Vienna Mayor Michael Ludwig attended a ceremony at the Vienna headquarters of the United Nations.
May 30, 2019
Federal President Alexander Van der Bellen met Palestinian President Mahmoud Abbas in Ramallah: "We are friends of Israel AND of the Palestinians. We want to deepen relations with both sides". Mahmoud Abbas thanked Austria for the "historical relationships" cultivated since Bruno Kreisky.
February 5, 2019
Michael Ludwig is a Viennese politician, member of the SPÖ, and since a battle vote in January 2018 against Andreas Schieder the designated mayor respectively state governor of Vienna and the state party chairman of the SPÖ Vienna. On 24 May 2018 he will take up his new position as successor to Michael Häupl.
May 3, 2018