Ars Electronica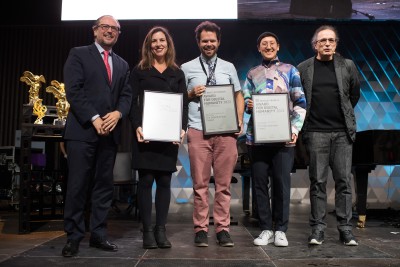 Austria's Foreign Minister Alexander Schallenberg presented the Ars Electronica Award for Digital Humanity at the annual Ars Electronica Festival. The award, initiated by the Ministry of Foreign Affairs in 2021, honors projects that demonstrate the importance of cultural exchange for the development of a society-oriented, digital world.
September 11, 2022
The Find out more about this week's developments. Last week was turbulent for the most important matters of diplomacy in Vienna. The war in Ukraine, the European Forum Alpbach or the efforts of international organizations in Vienna towards peaceful solutions shows once again how multifaceted diplomacy is. Read about the latest developments in diplomacy in Vienna and Austria.
August 25, 2022
Together with the Austrian Ministry of Foreign Affairs, Ars Electronica's "Welcome to Planet B" festival offers artists who are threatened, persecuted and oppressed because of the political dimension of their works a space on its online platform entitled "State of the ART(ist)".
August 23, 2022
Austrian Foreign Ministry and Ars Electronica created a Virtual Space for artistic freedom. In times of crisis, there is clear support for artists and artistic freedom.
May 30, 2022
The Austria Pavilion at EXPO 2020 Dubai has now won yet another award. Read about the multiple awards the pavilion has won and why it is receiving so much recognition.
February 8, 2022
The Chargé d'affaires of the US Embassy in Vienna Mario Mesquita visited Linz and met with Upper Austrian Governor Thomas Stelzer and Voestalpine CEO Herbert Eibensteiner. Read about Mesquita's visit and what was discussed.
November 11, 2021
120 locations around the globe will feature performances organized by the Ars Electronica in Linz. Despite the ongoing Covid-19 crisis, the festival organizers have once again surpassed the dimensions of the recent years.
September 2, 2020
Austrian Foreign Minister Alexander Schallenberg announces a new prize for international artistic projects that deal with the impact of technology and digitalization on society.
August 27, 2020
On the occasion of the official state visit of Federal President Alexander Van der Bellen, the Austrian Chamber of Commerce and Industry (WKO) is organising an economic mission entitled "Infrastructure" as well as the "Open Innovation for Corporates" future trip to Tel Aviv.
February 4, 2019