Sponsored
Article Tools
Business Mission and "Future Trip" to Tel Aviv as Part of the State Visit of Van der Bellen
Published: February 4, 2019; 20:35 · (Vindobona)
On the occasion of the official state visit of Federal President Alexander Van der Bellen, the Austrian Chamber of Commerce and Industry (WKO) is organising an economic mission entitled "Infrastructure" as well as the "Open Innovation for Corporates" future trip to Tel Aviv.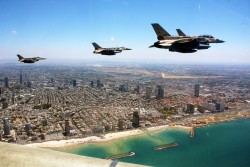 Economic mission and voyage into the future (Zukunftsreise) to Tel Aviv as a win-win situation for Israel and Austria / Picture: © Wikimedia Commons / Israel Defense Forces [CC BY 2.0 (https://creativecommons.org/licenses/by/2.0)]
Israel's economy has developed stably in recent years: real economic growth of 3.5% in 2017, 3.4% and 3.1% respectively are forecast for 2018 and 2019.
The Austrian-Israeli foreign trade volume amounted to 568.7 million euros in 2017, with a trade balance surplus for Austria of 228.6 million euros.
The economic mission transport infrastructure with top-class staffing will take place from 5 to 7 February 2019 with the participation of Federal President Alexander Van der Bellen as well as well-known companies such as Frequentis, ÖBB Infra, Strabag and Voestalpine Schienen.
The Israeli infrastructure sector is particularly important for Austria's export economy, as it accounts for around a quarter of all domestic exports to Israel.
Since the Israeli government wants to continue investing in this sector, Austrian companies also have great opportunities in the future.
Major infrastructure projects are pending, including the ongoing electrification of the railway network and a general expansion of the rail and light rail lines.
With a research quota of over 4% of GDP, Israel is one of the most innovative countries and serves as a model worldwide.
The future trip "Open Innovation for Corporates", on the other hand, will take place from February 4 to 7, 2019 and will enable participants, including Ars Electronica, Microsoft, RHI Magnesita and Umdasch, to integrate Israeli technology successfully and sustainably into their own companies.
There will be the opportunity to get to know innovation leaders, exchange best practice examples and make important contacts.
Both delegations are headed by WKÖ Vice President Martha Schultz: "The exchange between Israel and Austria is a win-win situation for both sides: In the infrastructure sector we stand out due to our expertise. Israel and Tel Aviv in particular are innovation leaders in the high-tech sector, where we can take a lot with us".