Antonio Tajani
Austrian Foreign Minister Alexander Schallenberg and his Italian counterpart Antonio Tajani traveled to Bosnia and Herzegovina where they talked to several representatives of the country about the EU support for the country's reform and its general path towards the EU.
March 13, 2023
Italian Minister of Foreign Affairs and International Cooperation Antonio Tajani came to Vienna for a meeting with Austria's Foreign Minister Alexander Schallenberg and Chancellor Karl Nehammer. The visit of Tajani asked for the opportunity to consolidate cooperation and talks with Vienna on the main bilateral issues (especially in the fields of economy, energy and infrastructure), European and international, starting with the migration issue.
December 13, 2022
Austria's Minister for European Affairs Karoline Edtstadler travelled to Rome to meet with some representatives of the Italian government. With her counterpart, the Italian Secretary of State for Europe Vincenzo Amendola, Edtstadler discussed the Europe-wide "Green Passport" for Covid-19 vaccinated, tested and recovered people.
March 19, 2021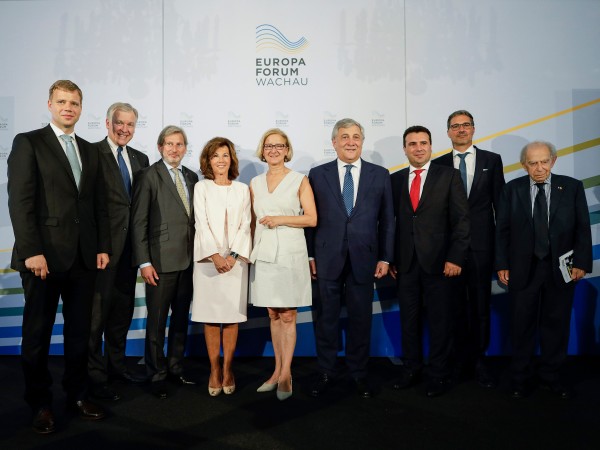 Austria will continue to represent its interests in Europe in a proven manner, said representatives from politics and business at this year's European Forum Wachau.
June 17, 2019
The High-Level Forum Africa-Europe met at the ACV-Austria Center Vienna to focus on "Taking cooperation to the digital age". The debates focused on the cooperation between the European Union and African countries in the areas of innovation and digitisation, in particular the question of how the benefits of digital change can benefit everyone.
December 19, 2018
The EU member countries are catching up with the US and Japan in regard to innovation. However, Austria is not among the top players.
March 4, 2014
EU Commissioner for Industry Antonio Tajani has presented the annouced steel action plan.
June 12, 2013
During his visit to Linz, EU Commissioner for Industry and Entrepreneurship Antonio Tajani announced measures for the steel industry in Europe.
May 7, 2013