Ana Brnabic
The Chairman-in-Office of the Organization for Security and Cooperation in Europe (OSCE), Bujar Osmani, recently concluded a productive one-day visit to Kosovo. Chairman Osmani also visited Serbia's capital Belgrade a day earlier. During his visits, he engaged in high-level meetings with key political figures.
May 31, 2023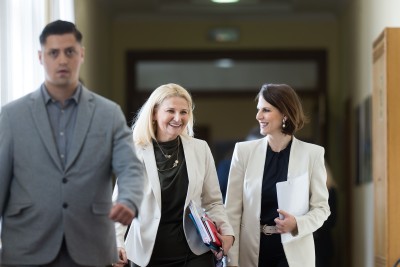 During her working visit to Belgrade, Austrian Minister for European Affairs Karoline Edtstadler met with Serbian Prime Minister Ana Brnabić and her ministerial colleague Tanja Miščević.
May 22, 2023
Austrian foreign policy is always eager in the Balkans, especially in times of the Ukraine war. Austria's Foreign Minister Alexander Schallenberg traveled again to the Western Balkans region, more precisely to Serbia and Kosovo. The talks focused on the impact of the Russian war against Ukraine, the European perspective of the Western Balkan countries and the dialogue between Serbia and Kosovo.
June 14, 2022
The Balkans were plagued by war 30 years ago. When Yugoslavia collapsed, the first war in Europe after World War II occurred. A policy of stability in this region is particularly important, especially in the backdrop of the unprovoked Russian invasion of Ukraine. Recently Austrian Chancellor Karl Nehammer as well as many other European politicians have traveled to the Balkan states to talk to the most important politicians and dignitaries. The EU and the U.S. have long been the central players in the Western Balkans and want to counter Russia's and China's influence in the region.
March 18, 2022
Serbian President Aleksandar Vučić recently received Chancellor Kurz in Belgrade. The two of them spoke about illegal migration, especially regarding the refugees fleeing from Afghanistan. Other topics of discussion included bilateral relations and the EU rapprochement process. Kurz also spoke with Serbian Prime Minister Ana Brnabić about EU accession for the Western Balkans.
September 7, 2021
Austrian Chancellor Sebastian Kurz has invited political leaders from various Western Balkan countries to Vienna to discuss current issues on an European as well as on a bilateral level. Read more below to find out what was discussed.
June 21, 2021
Austrian Federal Chancellor Sebastian Kurz visited Serbia and Kosovo during a trip to the Western Balkans. Since the last clash between the two heads of state Vučić and Thaçi in September, the talks have been suspended there. The EU should continue to support the search for a solution to the Kosovo conflict.
November 7, 2018