Abbas Bagherpour Ardekani
On the occasion of the National Day of the Islamic Republic of Iran, H.E. Abbas Bagherpour Ardekani, Ambassador Extraordinary and Plenipotentiary to Austria and Slovakia, together with H.E. Mohsen Naziri Asl, Ambassador and Permanent Representative to the United Nations and other International Organizations in Vienna, hosted a reception at the Ambassador's Residence in Vienna.
February 9, 2023
Dr. Ali Bagheri Kani (54), Iran's Vice Minister of Foreign Affairs for Political Affairs and lead negotiator at the Vienna talks met with Austria's Foreign Minister Mag. Alexander Schallenberg.
December 15, 2021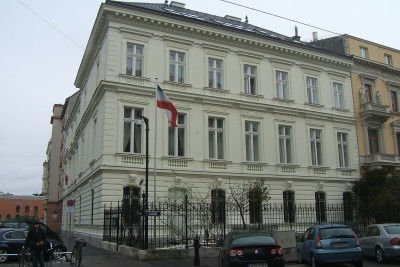 The Palais Sigray St. Marsan, which houses the Iranian Embassy in Vienna, has a fascinating history dating back to the late 19th century. Learn more about this historical building.
December 14, 2021
Discussions regarding the future of the Joint Comprehensive Plan of Action, also known as the Iran Nuclear Deal, are set to continue in Vienna. This has been confirmed by Austrian Foreign Minister Alexander Schallenberg and Iranian Foreign Minister Hossein Amir-Abdollahian. The Director General of the IAEA, Rafael Mariano Grossi, also announced to the IAEA Board of Governors that Iran has agreed to allow IAEA inspectors to service the agency's monitoring and surveillance equipment in Iran and replace their storage media. These developments come as US President Joe Biden has publicly expressed interest in returning to the agreement that his predecessor unilaterally withdrew from.
September 24, 2021
The new Ambassador of the Islamic Republic of Iran to Austria and to Slovakia, H.E. Mr. Abbas Bagherpour Ardakani presented Austrian Federal President Alexander Van der Bellen with his letter of accreditation at the Vienna Hofburg.
July 12, 2020 · Updated: September 25, 2020; 10:30
H.E. Kazem Gharibabadi, the new Permanent Representative of the Islamic Republic of Iran, presented his credentials to the International Organizations in Vienna.
July 3, 2018