Sviatlana Tsikhanouskaya
The international community in Vienna and around the world, as well as numerous top politicians, have congratulated Federal President Alexander Van der Bellen on his re-election. The congratulations came from heads of state of different political camps, diplomats of various countries and other dignitaries.
October 10, 2022
Belarusian opposition leader Sviatlana Tsikhanouskaya met Foreign Minister Schallenberg in Vienna at the Austrian Foreign Ministry. The meeting focused on the current state of politics in Belarus and Russia.
June 2, 2022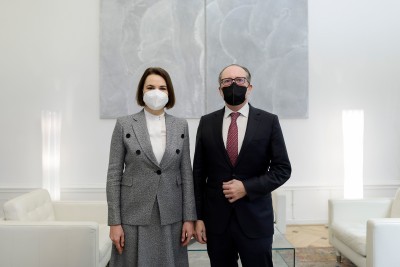 Chancellor Schallenberg participated in a video conference to discuss the situation in Belarus and the worsening humanitarian crisis at the EU's external border with numerous representatives from other EU member states and Belarusian opposition politicians. Read what was discussed at the meeting and watch a joint press conference with Schallenberg and Belarusian opposition leader Sviatlana Tsikhanouskaya.
November 23, 2021
The EU Foreign Ministers met in Brussels to discuss current issues such as developments in Belarus and Libya. Austria's Foreign Minister Schallenberg demands a "strong signal" from the EU towards the Belarusian government.
September 22, 2020