Novartis
In a meeting in Vienna, EU Commissioner Thierry Breton, who is responsible for vaccine production, Austria's Chancellor Sebastian Kurz and Minister for Economic Affairs Margarete Schramböck discussed the possibilities of Covid-19 vaccine production in the EU and talked about other issues evolving around the different Coronavirus vaccines.
March 9, 2021
Israel's Prime Minister Benjamin Netanyahu, Denmark's Prime Minister Mette Frederiksen and Austria's Chancellor Sebastian Kurz agreed on establishing a joint research and development foundation as well as on vaccine production. Chancellor Kurz stressed the importance of global cooperation in the fight against Covid-19.
March 5, 2021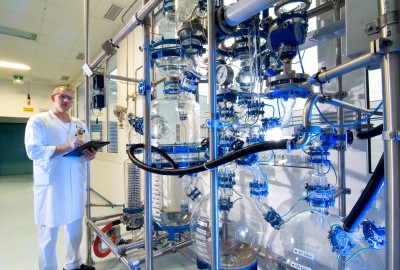 The pharmaceutical company Novartis is investing EUR 27.4 million in the Kundl site in Tyrol to produce an active ingredient for a new therapy for wet age-related macular degeneration with 40 employees.
June 20, 2020
According to Bloomberg, the Austrian pharmaceutical company negotiates with potential investors in order to strengthen the equity base.
September 27, 2011
The ailing Austrian biotech company is in urgent need of cash. An acquisition, strategic partnerships and a capital increase are being evaluated.
July 19, 2011