Mevluet Cavusoglu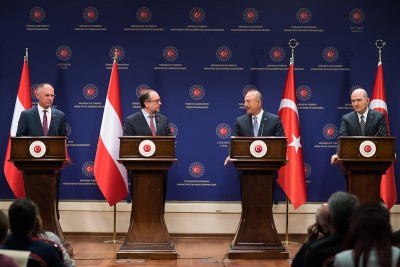 Austria's Foreign and Interior Ministers were recently on a working trip to Turkey. The two politicians met their respective counterparts to discuss acute issues such as food security or illegal migration triggered by the conflict in Ukraine. The two ministers are currently travelling together and have been in Egypt for the past few days.
July 5, 2022
Amid talks with Ukrainian Prime Minister Denys Shymal on the eve of Ukrainian Independence Day, Foreign Minister Alexander Schallenberg said International law is and remains a red line that must not be crossed.
August 24, 2021
At the Global Anti-IS (Anti-Daesh) Coalition Meeting in Rome, Austrian Foreign Minister Schallenberg and his European and global counterparts discussed how to best combat the current threats of Islamist terrorists.
June 29, 2021
According to outgoing Foreign Minister Karin Kneissl, the Turkish Foreign Minister Mevlüt Çavuşoğlu has promised in a telephone conversation to ease the Turkish blockade of Austria in the "Partnership for Peace (PfP)" programme. The PfP is a NATO program aimed at creating trust between NATO and non-NATO members.
June 3, 2019