Lipizzan Horses - Lipizzaner
The Chargé d'affaires of the US Embassy in Vienna Mario Mesquita visited Linz and met with Upper Austrian Governor Thomas Stelzer and Voestalpine CEO Herbert Eibensteiner. Read about Mesquita's visit and what was discussed.
November 11, 2021
The young mare herd from the Lipizzaner stud Piber can be seen in the baroque Winter Riding School of the Vienna Hofburg until the beginning of August.
July 9, 2019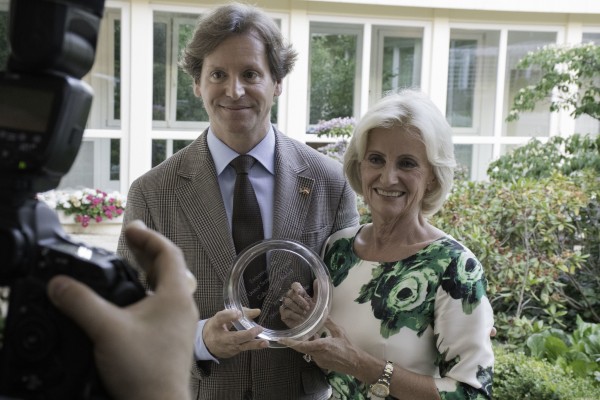 Austrian entrepreneur Elisabeth Gürtler-Mauthner (69) received the Cultural Icon Award in acknowledgement of her achievements and long friendship with the United States of America from US Ambassador Trevor Traina.
June 20, 2019
The Lipizzan horses are to become cultural heritage. After decades of dispute, Slovenia and Austria submit the Lipizzaner breed to UNESCO as an intangible cultural heritage. This was declared by Austrian Foreign Minister Karin Kneissl and her Slovenian colleague Miro Cerar after signing a joint declaration in Going in Tyrol. The application should be submitted by March 2020 with the aim of enrolment by 2021.
May 7, 2019
Chancellor Kurz visited the UAE United Arab Emirates and the State of Kuwait with an extensive business delegation. Main purpose were deals in in the fields of energy, sustainability, infrastructure, transport and health. Also on the trip were 25 Lipizzan stallions of the Spanish Riding School including riders, which were on a tour in the Emirates. Kurz presented the Crown Prince of the UAE, Mohammed bin Zayed Al Nahyan, with a Lipizzan stallion as a gift from the Republic of Austria.
March 25, 2019