Leigh Turner
British Ambassador to Austria met Carinthia's Governor Kaiser to discuss the current Covid-19 situation in Austria and also the Brexit negotiations that are in the decisive stage. Turner hopes that the registration of British citizens following the Brexit will be easy and unbureaucratic.
November 12, 2020
US Ambassador Traina and British Ambassador Turner took part in a discussion about the world after corona at the Austrian News Days. Both recognized the rise of social media and its significant role in today's world.
September 24, 2020
On the occasion of the "Liberation" Day of Austria from National Socialism by the Allies in 1945 and the end of the Second World War (Victory in Europe Day), Federal Chancellor Sebastian Kurz received the four ambassadors of the USA (Trevor Traina), Great Britain (Leigh Turner), France (representative of Francois Marcel Michel Saint-Paul) and Russia (Dmitrij Ljubinskij) at the Federal Chancellery.
May 13, 2019
The United Kingdom and UNODC have signed two new funding agreements with a joint worth of EUR 10.13 million to strengthen UNODC's anti-corruption activities.
January 7, 2019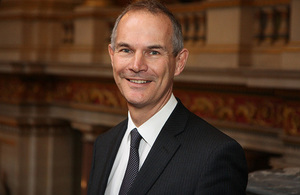 Mr. Leigh Turner CMG has been appointed Her Majesty's Ambassador to the Republic of Austria and UK Permanent Representative to the United Nations in Vienna. Mr. Turner currently serves as British Consul-General in Istanbul. After joining the Foreign and Commonwealth Office from 1984 to 1987 he already has had a posting in Austria before Turkey. The new ambassador to the Republic of Austria will take up his post in August 2016.
February 18, 2016