Kosovo Serbia Relations
The head of government of Kosovo, Albin Kurti, was a guest at the Renner Institute in Vienna to talk about the challenges facing his country. Under the title "Kosovo: The young democratic state as a pawn of geopolitical interests", he not only took stock of his time in government so far in conversation with Director Maria Maltschnig but also explored the question of how his country can survive amidst the conflicting interests of geopolitical players.
November 16, 2023
The recent incident has renewed tensions between Kosovo and Serbia, raising fears of a possible armed conflict in the region. The situation in Kosovo appears to be calming, but the state of affairs remains incomprehensible to many.
October 3, 2023
The foreign ministers of the "Central 5" (C5) - Austria, the Czech Republic, Slovakia, Hungary, and Slovenia - met in Vienna to discuss current security policy and neighborhood issues. Host Alexander Schallenberg stressed the importance of the Organization for Security and Cooperation (OSCE) as a pan-European platform for dialogue, especially in light of the challenges posed by Russia's attack on Ukraine and the need to keep the OSCE alive. During the meeting, Hungarian Foreign Minister Peter Szijártó repeatedly irritated the participants.
October 1, 2023
The Chairman-in-Office of the Organization for Security and Cooperation in Europe (OSCE), Bujar Osmani, recently concluded a productive one-day visit to Kosovo. Chairman Osmani also visited Serbia's capital Belgrade a day earlier. During his visits, he engaged in high-level meetings with key political figures.
May 31, 2023
Following violent protests in northern Kosovo, NATO is reinforcing the international protection force KFOR there. The Austrian Armed Forces are now also increasing troop protection in northern Kosovo.
May 30, 2023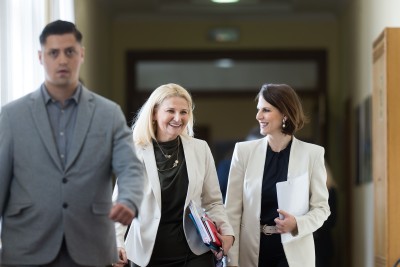 During her working visit to Belgrade, Austrian Minister for European Affairs Karoline Edtstadler met with Serbian Prime Minister Ana Brnabić and her ministerial colleague Tanja Miščević.
May 22, 2023
Austria's Federal President Alexander Van der Bellen Went on an Official Visit to North Macedonia and Met with his Macedonian Counterpart Stevo Pendarovski. Van der Bellen reassured support for North Macedonia's EU accession and opted for constitutional Change in the country.
March 30, 2023
Foreign Minister Alexander Schallenberg met with his Serbian counterpart in Vienna, where they discussed the relations between the countries and the normalization process between Serbia and Kosovo.
March 23, 2023
Austrian Foreign Minister Alexander Schallenberg participated in a meeting of foreign Ministers of all European Union states. He reassured support for Ukraine and the Western Balkans was a subject of this meeting.
March 20, 2023
Serbia's relatively close relationship with Russia, while based on a somewhat haggard history, has been rather positive in recent years. Since Russia's attack, but also before, this relationship has been crumbling more and more. There are several reasons for this, some of which are currently intensifying.
January 19, 2023
Kosovo Prime Minister Albin Kurti visited Vienna, where he met with Austrian Chancellor Karl Nehammer and then held a speech at the Diplomatic Academy of Vienna in the evening.
January 16, 2023