Sponsored
Page 1/1
Kiyoshi Koinuma
The Japanese donated 1000 trees for 1000 years of Austrian history and for a meanwhile 150 year friendship. Next week, the Japanese organisations in Vienna, together with the City of Vienna, will celebrate the 18th Cherry Grove Festival on the Danube Island, which is based on the Japanese Hanami Festival (花見).
April 18, 2019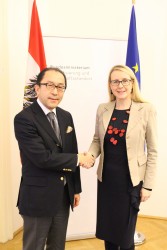 The EU's Economic Partnership Agreement with Japan entered into force on 1 February 2019. For Austria, Japan is by far the second most important market in Asia and the third most important overseas trading partner. About 1000 Austrian exporters are active in Japan, 80 companies have local branches. In 2017 the trade volume reached an all-time high of 3.5 billion euros.
February 4, 2019
This year, Japan and Austria are commemorating the 150th anniversary of the establishment of diplomatic relations between the two countries. This week the kick-off event took place with the Japanese Ambassador in Vienna Kiyoshi Koinuma and the Head of the Section for Foreign Cultural Relations (Sektion V - Kulturelle Auslandsbeziehungen) at the Foreign Ministry, Section Head Ambassador Dr. Teresa Indjein.
January 25, 2019
H.E. Mr. Kiyoshi Koinuma is the Extraordinary and Plenipotentiary Ambassador of Japan to Austria as well as the Extraordinary and Plenipotentiary Ambassador of Japan to Kosovo and Macedonia.
April 3, 2018