Hans Peter Doskozil
Read about the newest developments in Diplomacy in Vienna and Austria. Further, Austria is strengthening its efforts to fight global and local grievances. Austrian Foreign Minister Schallenberg visited Serbia and Kosovo. The Find out more about this week's developments.
June 19, 2022
Governor Hans Peter Doskozil received ambassadors of foreign representative authorities at the Martinsschlössel in Donnerskirchen in the Austrian province of Burgenland.
June 15, 2022
The "Easter rest" has now also been extended in the provinces Lower Austria and Burgenland until April 11. After Vienna, the two provinces have decided to prolong the lockdown until a week after Easter. The applicable rules for the eastern region of Austria include a 24 hour curfew, closure of the retail sector as well as closure of body-related services and cultural institutions.
April 1, 2021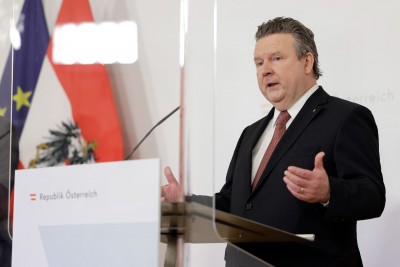 The Governors of Vienna, Lower Austria and Burgenland together with Austria's Health Minister have announced the expected new restrictions for eastern Austria. A so-called "Easter rest" will be implemented, meaning closing down retail and body-related services for the Easter holidays while also having an all-day curfew.
March 25, 2021
An official visit of President Van der Bellen to Jordan will take place from 17 April to 19 April 2018. The delegation to Amman will be accompanied by an economic mission headed by WKO Vice President Richard Schenz. The economic mission of the WKO is the response of an invitation issued some time ago by the President of the Chamber of Commerce of the Kingdom.
March 8, 2018