Covid-19 in Austria: New Restrictions for Vienna, Lower Austria and Burgenland
The Governors of Vienna, Lower Austria and Burgenland together with Austria's Health Minister have announced the expected new restrictions for eastern Austria. A so-called "Easter rest" will be implemented, meaning closing down retail and body-related services for the Easter holidays while also having an all-day curfew.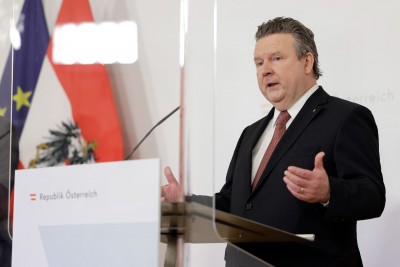 Vienna Mayor Ludwig hopes that the new restrictions for the eastern region of Austria will have a positive impact on the number of Covid-19 infections. / Picture: © Bundeskanzleramt (BKA) / Andy Wenzel
Rudolf Anschober, Austria's Minister of Health together with Michael Ludwig, Johanna Mikl-Leitner and Hans Peter Doskozil, the Governors of Vienna, Lower Austria and Burgenland, respectively, announced further restrictions for the near future.
Vienna Mayor Michael Ludwig commented:
"As provincial governors, we are prepared to take responsibility, even in a difficult situation. With these measures, we have jointly put together a package for the eastern region that is profound and hopefully will also have a positive impact on the number of infections and the occupancy of hospital beds. If we don't see results in a very timely manner, we will have to take action beyond those that have been taken."
The following decisions for the three provinces, which build up the eastern region of Austria, have been announced:
Easter rest
Retail and the body near service providers must close from April 1 to April 6. Excluded are stores for daily needs (e.g. grocery stores, pharmacies and tobacconists). From April 7 there will be access tests for retailers.
FFP2 obligation
In the future, the FFP2 mask obligation will also apply in closed rooms if more than one person is in the room and outside if crowds cannot be avoided.
Schools
After the Easter vacations, Distance Learning will apply for the rest of the week (April 7 to April 9.. After that, there will be regular PCR testing will be implemented in schools.
Stricter border controls
Test validity at the borders is to be shortened. Border commuter tests are to be twice a week in the future.
Curfew
From April 1 up to and including April 6 an all-day curfew will apply. The known exceptions apply.