Film Industry
The annual results from the Austrian Business Agency (ABA) show that its location agency serves 364 international companies. Read more about the ABA's annual results and how the agency is helping companies settle into Austria.
February 15, 2022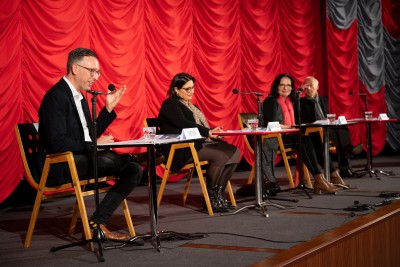 The Gartenbaukino in Vienna is finally reopening after being closed for nearly a year and undergoing roughly seven months of renovation. Read about the renovation of this iconic Viennese cinema and look at some of the upcoming events from its program for 2021/2022.
October 12, 2021
After being canceled in 2020 due to the COVID-19 pandemic, the Austrian-Japanese Society (ÖJG) will host the fifth "Japannual" Japanese Film Days in Vienna at the Film Casino in Margareten. With over 20 films included this year, the festival brings a broad overview of current film events in Japan to Vienna. Read more about the festival, some of the movies included this year, and how to get tickets.
October 5, 2021
The Canadian-American actor Christopher Plummer is dead. He played Baron von Trapp in the film musical "The Sound of Music" in Salzburg alongside Julie Andrews. He died at the age of 91 surrounded by his family.
February 5, 2021
The 58th Viennale is currently taking place despite Covid-19 and all the regulations that are in place. Federal President Van der Bellen and director of the festival, Eva Sangiorgi, both emphasize the importance of film even though the pandemic has impacted the industry dramatically.
October 23, 2020
In Tyrol, a Hollywood drama about a married couple whose perfectly believed family life gets completely out of balance when they barely escape an avalanche is currently in the making. Austrian film funding supports the production of "Downhill" with Will Farell and Julia Louis-Dreyfus. With a shooting time of 8 weeks, an added value of 7 million Euros and 10,000 overnight stays is expected.
January 18, 2019