Ebrahim Raisi
The International Atomic Energy Agency (IAEA) has found particles of very highly enriched uranium in Iran. As the Director-General of the IAEA, Rafael Mariano Grossi, officially confirmed for the first time, the uranium had a purity level of 83.7 percent. The value is not far from 90 percent, which would be necessary for nuclear weapons.
March 2, 2023
Mohsen Naziri Asl, Iran's new permanent representative, presented his credentials to the Deputy Director-General of the United Nations Office at Vienna, Dennis Thatchaichawalit. Meet Ambassador Naziri Asl, the new permanent representative of the Islamic Republic of Iran to the International Organizations in Vienna.
August 16, 2022
Russia's Foreign Minister Sergei Lavrov has arrived in Iran for a visit. He first met with President Ebrahim Raisi in the capital Tehran and will meet with Iranian Foreign Minister Hossein Amir-Abdollahian. Iran Nuclear Talks will also play a significant role in Lavrov's visit since both countries are trying to find a way to avoid further sanctions by the West.
June 22, 2022
European officials are trying to save the Iran nuclear deal. To find a solution to the months-long standoff between Tehran and Washington, EU coordinator Enrique Mora is scheduled to visit Tehran. Read about the newest developments in Iran and the JCPOA.
May 8, 2022
The U.S. imposed sanctions on individuals and entities in Iran, accusing them of supporting Iran's ballistic missile program after suspected Iranian-backed proxies carried out missile attacks on Arab targets in the region.
March 31, 2022
In the backdrop of the Russian invasion of Ukraine new issues emerged in the negotiations for the revival of the JCPOA in Vienna. For the West and Iran, it is important to re-establish the Joint Comprehensive Plan of Action, despite Russia's diversionary tactics.
March 24, 2022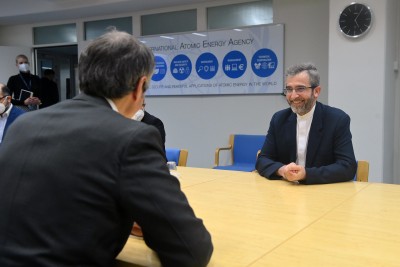 Iranian Foreign Minister Hossein Amir-Abdollahian says Tehran is serious about reaching an agreement, but the West must be realistic. Earlier, Iran's chief negotiator at the nuclear talks in Vienna, Ali Bagheri Kani, also expressed optimism about the progress of negotiations.
February 23, 2022